The Public Eye
(1992)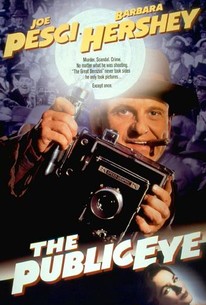 Movie Info
Howard Franklin wrote and directed this film noir character study based on the famed New York Daily News photographer Weegee. Joe Pesci plays a character named Bernstein, a freelance photographer for the New York City tabloids of the 1940s. His life is dedicated to his work; with a police radio under the dashboard of his car and a darkroom in his trunk, he quickly and efficiently races to the scene of crimes, accidents and murders to snap photographs of gangsters, politicians, cops, and prostitutes, which he promptly delivers to the newspapers. His knack for arriving at a crime scene before the police earns him the nickname the Great Bernzini. The trouble begins for Bernstein when he agrees to look up a gangster for Kay (Barbara Hershey), the sexy owner of a fancy Manhattan nightclub. After making inquiries, Bernstein traces the man Kay is looking for, but he turns up dead. When he informs the police, he becomes a suspect in the murder; it also turns out that the FBI is interested the case. Bernstein then uncovers an elaborate conspiracy concerning gas rationing, the mob, and the government.
Critic Reviews for The Public Eye
All Critics (14) | Top Critics (4) | Fresh (9) | Rotten (5)
The tale's mournful B-movie romanticism-and Pesci's introspective, crablike performance gets under your skin. In its moody, daffy way, The Public Eye gives off an authentic reek of artistic compulsion.

A period noir thriller, in which Pesci plays one of his few lead roles as Leon (Bernzy)Bernstein, a magician behind the lens with an eye for life's darker side blessed with the soul of an artist
Audience Reviews for The Public Eye
½
Seriously underrated noir with a great performance by Pesci. This film really needs, and is really deserving of a DVD release!
The Public Eye Quotes
There are no approved quotes yet for this movie.