Unfaithful
(2002)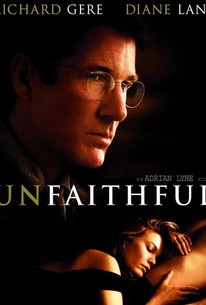 Movie Info
Diane Lane is a wayward wife and Richard Gere is her suspicious husband in Adrian Lyne's Unfaithful. Connie (Lane) leaves her suburban home on an errand, venturing into Manhattan during a wicked windstorm. On a trash-strewn Soho street, she literally runs into Paul Martel (Olivier Martinez), a handsome young Frenchman carrying a huge stack of books. Connie has a bad scrape on her knee, and is unable to get a cab, so Paul invites her up to his apartment. Paul is quietly flirtatious as he gives Connie some ice and a bandage for her knee. Connie phones home and explains to her son, Charlie (Erik Per Sullivan), that she's running late. Before she leaves, Paul gives her a book of Persian poetry, The Rubaiyat of Omar Khayyam. She mentions the encounter in passing to Edward (Gere), her husband, but it's clear that she's obsessing about Paul, and soon she's back in the city, with a pretext for calling him up. Soon, they are lovers, and they grow bolder and bolder in their passion. Edward begins to suspect, and eventually gets a private investigator (Dominic Chianese of The Sopranos) to follow Connie. His worst fears confirmed, Edward decides to confront Paul, a decision that will come to haunt him. While the screenplay for Unfaithful is credited to Alvin Sargent (Ordinary People) and William Broyles Jr. (Cast Away), the inspiration for Lyne's film came from Claude Chabrol's acclaimed 1969 film La Femme Infidele. ~ Josh Ralske, Rovi
People Who Like this movie also like
News & Interviews for Unfaithful
Critic Reviews for Unfaithful
Audience Reviews for Unfaithful
½
Somewhere between soft core porn and an Oscar nominated drama.
Spencer S.
Super Reviewer
½
"Unfaithful" works because it has solid actors as the leads, steady direction, and a script that ties together so many small objects and encounters in such non-contrivance that it's a thrill to watch unfold. Unfortunately, the story does fall into cliche in the picture's first half, but it's in the expertly crafted final shot where the film finds it's own identity.
Steven Carrier
Super Reviewer
Really good. A bored housewife has an affair with a French man that she meets during a storm. The first half of this is about the sneaking around, the second half takes a turn I didn't expect and really gets quite dark. I did not expect this to be as good as it was.
Nicki Marie
Super Reviewer
Unfaithful Quotes
There are no approved quotes yet for this movie.