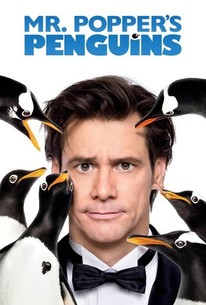 Mr. Popper's Penguins
2011, Kids & family/Comedy, 1h 34m
145 Reviews
50,000+ Ratings
What to know
critics consensus
Blandly inoffensive and thoroughly predictable, Mr. Popper's Penguins could have been worse -- but it should have been better. Read critic reviews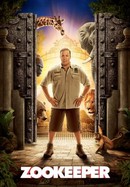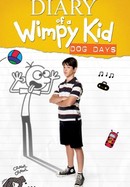 Diary of a Wimpy Kid: Dog Days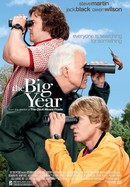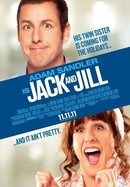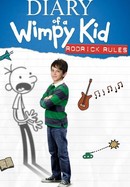 Diary of a Wimpy Kid: Rodrick Rules
Where to watch
Rent/buy
Subscription
Rent/buy
Rent/buy
Rate And Review
Mr. Popper's Penguins Photos
Movie Info
Mr. Popper (Jim Carrey) is a successful real estate developer in Manhattan. He lives in a posh apartment on Park Avenue, and is on the fast track to a partnership in a prestigious company. However, his life changes radically when he receives a final gift from his late father -- a live penguin, which is soon joined by five more penguins. The birds' antics soon win over Mr. Popper, and as he bonds with the penguins, his chilly relationship with his ex-wife (Carla Gugino) and kids begins to thaw.
News & Interviews for Mr. Popper's Penguins
Audience Reviews for Mr. Popper's Penguins
Why are so many movies these days about deadbeat dads who learn how to be a better for their kids? Regardless of the overly done theme, this was a pretty funny one with good moments.

*1/2 out of **** "Mr. Popper's Penguins" is a charming children's book that I'd recommend every parent openly advertise to their child, for the greater good of things. "Mr. Popper's Penguins", the film, is an unappealing - but inoffensive - children's film that I would nonetheless request most responsible parents keep away from their children unless they wish for them to go completely brain-dead. Yes, everything you feared was not in unnecessary paranoia; it's that bad. What went wrong here? The film seemed so promising. It takes the story from the original book and puts it through the blender; which isn't necessarily a bad thing, or at least sometimes it isn't. Here, I guess it kind of is; since the changes made to this timeless tale are most definitely not for the better. It wants to be endearing, cute, and effective; but it lacks the basic intelligence to be any of the three. If you're looking for "family entertainment" of the lowest degree, you've found it. While in the book, the titular Mr. Popper was a poor man; here, he is depicted as a rich and divorced realtor who is lost in his work, his life, and himself. Somehow, he still makes time for his kids on weekends. At his work, he's been given a difficult task; to purchase the Tavern of Green - which is a restaurant that he knows only through childhood memories. But one day, his whole world is changed. He receives a box on his doorstep; and inside it is a frozen penguin, which soon defrosts and wrecks Mr. Popper's apartment. He's clearly annoyed by the little creature - seemingly on sight - and tries as hard as he can to get it out of his home, but no luck. However, when his kid's birthday comes around and the rest of the family must drop in for a quick visit; they fall head-over-heels in love with the penguin, as well as the many others that arrive. What can I say? That's a premise that will most likely charm the audience it was made for. The penguins bring new possibilities into Mr. Popper's life - especially when they begin to reproduce - and at one point he even risks his job to complete that process. We can tell from the beginning where this story is going; he's going to start appreciating the winged rascals sooner or later; and trouble (in the form of a New York Zoo employee who specializes in penguin expertise) will try to break them apart just when things are looking up. If that doesn't sound too formulaic for you, then don't listen to whatever I've said thus far; or what I still have to say. The kind of formula that comes with "Mr. Popper's Penguins" has proven itself somewhat worthy in the past; it can work, if the right director and screenwriters are attached to it, but virtually the only thing that this film gets right is the casting. Jim Carrey stars as Mr. Popper; and he seems happy enough to be present. He plays the role with natural quirkiness; but as usual, he takes it to extremes, to the point where it's almost flat-out disturbing that this grown man is acting so childish. Plus, the jokes he's given aren't the least bit funny; but that's no surprise coming from a guy who relies almost entirely on crude physical comedy and poop jokes. I guess some people find that appealing; but let me ask you, what's so charming about any of it? The penguins come in an interesting mix of CGI animation and real-life birds. Sometimes, you can't even tell the difference, while other times you can. Regardless, there are a few moments where the penguins give it their all; providing the film with at least some merit, although all of it tends to diminish by the time Carrey dishes out the next rude, unfunny gag. In fact, Carrey pretty much ruins the film; he makes a few sexist, rude, and often times down-right stupid comments that transform what should be a pleasant family outing into a disaster. "Mr. Popper's Penguins" is as annoying as the pecking of penguins.

<i>"Pull yourself together... Your house is full of penguins!"</i><br/><br/> <b>Director:</b> Mark Waters <b>Starring:</b> Jim Carrey, Carla Guino, Angela Lansbury, Ophelia Lovibond <b>Running time:</b> 94 minutes <b>Country:</b> USA<br/><br/> Loosely based upon the children's book of the same name by Richard & Florence Atwater in 1938, it took approximately 73 years for the release of the feature film. However, despite the very long awaited release and as cute and as child-friendly as it seemed to begin with, there were immediate impressions that it would have its fair share of clichés and corny concepts that wouldn't make it one to remember. Having said that there were neither high nor low expectations for <i>Mr. Popper's Penguins</i>, it was simply just going into a film that may have had its weaknesses but it was just a bit of fun that was worth your time. It tells the story of Mr. Thomas Popper (Jim Carrey), a wealthy business man who is looking for a brand new change in his life and attempts to support his two children Janie (Madeline Carroll) and Billy (Maxwell Perry Cotton) but struggles to do so. However, when his father recently passes away, Popper's life becomes a rather unorthodox adventure as his father leaves him and Popper inherits six penguins. Thomas finds this new lifestyle incredibly tough until he grows to love them and they not only become pets to him, but they also draw him closer to his children and divorced ex-wife Amanda (Carla Guino). Although it seems that Thomas's life is forming itself back together again, there are certain events lying ahead that could lead you to tears and melt or break your heart. Quite frankly, any film involving relationships and personal bonds between humans and small animals is incredibly cute and appealing for children, but considering that this does just this for its target audience, <i>Mr. Popper's Penguins</i> is severely wounded for its obvious predictability and the pacing of the film was occasionally slow at times. It begins satisfying but when the penguins came into the equation, the pacing of the film gradually got slower and it became something that was rather dry and at times, rather empty. There are a few funny laughs in the film that added charm and an easy-going nature to the film. The films from director Mark Waters have been considered as popular public favourites over the years from the likes of <i>Mean Girls, Freaky Friday</i> and <i>The Spiderwick Chronicles</i>. However, now that he has provided us with his latest feature film, <i>Mr. Popper's Penguins</i> is a film that is genuinely easy enough for Waters to make as it features the colourful and enlightening tone with friendly and funny aspects, such as the penguins watching Charlie Chaplin films. However, he provides us with a more visual approach to the film that attempts to aid the film from falling into disaster. Admittedly, the script was rather corny that consists of on-going gags and occasionally continues almost needlessly, but it occasionally shows the wackiness of Jim Carrey at his absolute best. Having provided two divided sides to his acting ability by giving absolutely hilarious and wild performances and then really serious and emotional ones over the years, Jim Carrey stars in a role that proves almost instantly that he is almost like a fill-in slot for the film by avoiding a disastrous critical response. In fact, it is almost like a very balanced role that leans towards neither a performance to remember nor one that leans him into a disaster, although Carrey has had his fair share of hits and misses over the years. In all honesty, if you're an avid Jim Carrey fan especially from his films in the 1990s, you'll get quite a bit of enjoyment out of this one and this film really would have been a disaster and not funny or delightful in the slightest if he hadn't been in this film. Veteran actress Angela Lansbury added a bit more sophistication and became a treat to the film as she stars in only her third film in 10 years and delivers a decent performance. As far as the penguins are concerned, you will not be able to resist them and will fall in love with them very quickly or you will truly despise them. The six penguins named Captain (the leader), Loudy (nosiest one), Bitey (the most nibbling one), Stinky (the one who's prone to flatulence), Lovey (friendly and cuddly) and Nimrod (the clumsiest one) and each of their different personalities have their similar natures with the seven dwarfs in the classic tale of <i>Snow White</i>. They each are one on their own and do heart and soul as they each bond with Mr. Popper rather quickly and become a great deal to him. The only major problem with the six penguins is that it alters and toys with the facts about their nature, and there are certain moments that are almost laughable to witness (i.e. playing in the park in the snow with them and nobody's around). Nevertheless, they are adorable characters that will put a grin on their viewer's faces. Overall, <i>Mr. Popper's Penguins</i> is a very corny film with many flaws, but it is also a very cute and fun film to watch that will leave you feel a bit warmer inside at the end. To be honest, it needs to just be appreciated for what it is and it's nothing to take seriously. Although it's a film that really could have been a lot better, at the same time could have been a lot worse. So, it makes itself worthy as a warm and entertaining enough film that is a decent recommendation for families to just sit down and enjoy.

Mr Popper's Penguin is heartwarming film for all age. I love Jim Carrey crazy act, but personally I love him if he act normal and genuine which what he did in the movie. The penguins all look adorably cute, fantastic CGI! The writing and direction is fun and fast pace which makes it an overall winner. I don't understand why this score so law within the critics (just like The Smurf did), but personally I liked both movies and so does my family. 8/10.
See Details