The X-Files: Season 3
(1995 - 1996)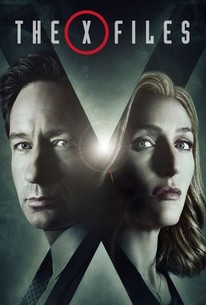 Rate And Review
The X-Files: Season 3 Photos
Tv Season Info
Season three of The X-Files begins with Fox Mulder having been found in the desert, following the end of season two's finale, and is nursed back to health. Dana Scully discovers a Nazi scientist who is attempting to create alien-human hybrids, whilst also meeting with a group of women who had abduction experiences similar to her own. Stars David Duchovny and Gillian Anderson.
News & Interviews for The X-Files: Season 3
Audience Reviews for The X-Files: Season 3
The paranormal gets even more strange and bizarre in Season 3 of The X-Files. After surviving an attempted assassination Mulder is hot on the heels of the Syndicate; coming ever closer to exposing their plans for colonization. But in the meantime Mulder and Scully continue to look into cases of psychics, astral projection, mass hysteria, mind control, and mythic creatures. With the success of last season's "Humbug," the series attempts to add more humor with the classic satiric episodes "Clyde Bookman's Final Repose" and "Jong Chung's From Outer Space." Additionally, the list of guest stars is more impressive than ever; featuring Peter Boyle, R. Lee Ermey, Kurtwood Smith, Ryan Reynolds, Jack Back, Amanda Tapping, and Jesse Ventura. Fast becoming a powerhouse of the Fox network, The X-Files' third season continues to develop rich and interesting stories and compelling characters that bring in more and more viewers week after week.

This is really awesome and cool and clever

The best season yet, the X-Files' third season boasts some truly classic episodes, a good mixture of MOTW and mythology episodes, attention-grabbing cinematography, fleshing out the side characters more to the point that Skinner got his own episode, great performances from our two leads - special mention goes to Mulder and Scully's conversation on a rock in "Quagmire" about Moby Dick - and stellar production values to the point that you could edit the two-part episodes into one and they honestly wouldn't look too out-of-place on the big screen. Oh, and did I mention this season was funny, too? "Jose Chung's From Outer Space" was a genuinely great episode with the best part not being the Rashomon thing it's got going on but this one Man in Black being very insistent that people saw the planet Venus. Though I had quite a blast with "War of the Coprophages" I had a great time watching this third season and truly hope that I'll enjoy the critically acclaimed darker and edgier fourth season just as much, if not more.

Yet another great season but a couple of episodes I have a little negative reactions.

This is one of the best shows of all history. Cannot recommend it enough!

The best season so far with one of the best episodes: Jose Chung's From Outer Space.

Probably the best season of the series. From the opening episode, the mythology starts to take shape, and the stand alone episodes are also fantastic (D.P.O., Clyde Bruckman's Final Repose, 2Shy). a couple of the 2-parters are worthy of film

This and the fourth season were the X-FILES at their best. The overall conspiracy and stand alone episodes mesh so well that you just want more and more. Not resting on their laurels and ever expanding. Shape-shifting aliens would be added to the X-FILES lexicon. Some of the best stand alone episodes they ever did this season, even introducing some comedy! The X-FILES was officially cool and not just for nerds!

The X-Files: Season 3 is executive produced by Chris Carter, and it stars David Duchovny and Gillian Anderson in a science fiction drama about The X-Files being reactivated, but with Special Agent Mulder (David Duchovny) being missing, and Agent Scully (Gillian Anderson) not knowing about what's going on, and trying to cope with her family's situation. Before it expires on Netflix, I've managed to have enough time to finish the season at a very close call, and maybe I'll be able to watch more of the show at a later time by renting them, but it'll definitely take more of my time with it. So from the 3 seasons that I watched so far, this is the best. David Duchovny and Gillian Anderson are just great as usual, and we get to see a bit more out of them whether it's family reasons, or something happened that affect them for a while and acted something different that they're not. Their chemistry will always be the show's strength, and I think by at this point, the creator knows that also as it shows more of their interactions. It may be the same shtick that we usually see at this point in terms of them arguing when Mulder thinks he knows the answer while Scully proves him wrong through science, the show does try to switch it around which is refreshing to see, and when they have actual conversations, it's really quite nice and relaxing to listen to. There may not be much more of the main story that it did in the previous season, I still remain invested in what's happening, the main plotline is really good, and the Monster-of-the-Week episodes are much better than the last season where it was a bit hit-or-miss and has memorable episodes like all of the episodes that Darin Morgan has written that are really funny and different from what I usually see, and Vince Gilligan's Pusher which has a cool villain, well-written, and has a suspenseful climax to it. Skinner is still a pretty bad*bleep* character that I was pretty interested to know about a bit of his backstory. So while there were some of the best episodes of the series so far, there was an episode that is probably the worst I've seen in this show, and that is Teso Dos Bichos because the subject matter is not interesting, it seemed to be whatever it wants to be with no connection whatsoever to itself, and it's really hard to take the episode seriously when you realize who the murderer was. I'm not the only one here, the cast and crew of The X-Files hated it, and director Kim Manners made T-shirts and gave it to the cast and crew that says "Teso Dos Bichos Survivor". There might be some other episodes where I thought could've been better, but I don't really remember the ones that stood out like this one. With that said, The X-Files: Season 3 is a really great season that I think I might have enough information for the first film they made which has the black oil in it.

The third season of the X-Files is widely regarded as the best season of the show at seamlessly showcasing the three areas in which the X-Files came to be known for: 1. First, this season kept progressing the show's "mythology" in fascinating fashion. From the introduction of the shadowy Syndicate (of which the Cigarette Smoking Man (William B. Davis is a member) to the continued betrayal of Alex "Ratboy" Krychek (Nicholas Lea), the myth-arc episodes were some of the best in the show's history. A different interpretation of Scully's (Gillian Anderson) earlier abduction is also touched on, as well as a strange alien substance brought up from the depths of the ocean. 2. This season also continued the high-quality "stand-alone" X-File case episodes. "Revelations" probes the religous differences between Agents Mulder (David Duchovny) and Scully, "Pusher" introduces a psychologically-terrifying villain, and "Avatar" explores the personal life of A.D. Walter Skinner (Mitch Pileggi). 3. Finally, three comedic episodes are featured in this season, providing a much-appreciated breath of fresh air to a show that regularly delves into some very serious content. "Clyde Bruckman's Final Repose" pays tribute to the silent films of yesteryear, "War of the Coprophages" is full of witty Mulder-isms, and "Jose Chung's 'From Outer Space'" is considered the ultimate comedic X-File to this day. To conclude, the Third Season of the X-Files does a remarkable job of blending an over-arching mythology with single-hour paranormal excursions and short doses of comedy to keep things fresh. Update (12/2015) -After a re-watch of this season, I actually felt the need to drop the star rating down from five to four. A big reason for this was because the comedy episodes aren't nearly as good in retrospect as they were closer to the live airing. "War of the Coprophages" and "Jose Chung's From Outer Space" just seem odd now instead of inventive. There are also some really strange standalones, as the writers really seemed to branch out into uncharted territory. Still a strong season overall, but I was a bit let down coming off the astounding Season Two.