Turning Point: 9/11 and the War on Terror
(2021)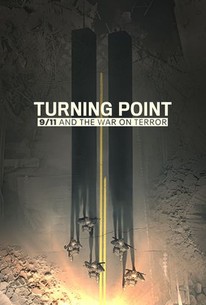 Where to watch
Subscription
Rate And Review
Turning Point: 9/11 and the War on Terror: Season 1 Photos
Audience Reviews for Turning Point: 9/11 and the War on Terror: Season 1
One of, if not the best documentaries I have ever seen. Absolute must-see!

This series is terrific. It is in depth, but also concise and accessible. It presents a thoughtful examination of the legacy of the 9/11 attacks and its effects not only on American foreign policy, but on the American people and the people of the Middle East.

This was a great documentary. It coincided perfectly with the 20th anniversary of September 11th, 2001 🇺🇸 This was a tearjerker, but very powerful.

09/2021 Three starts and half

This was the best documentary I've seen on Afghanistan and 9/11. Parts of it are hard to watch. Proceed with caution. Powerful though.

Great series. Unfortunate that in hindsight it all seems so predictable. Other mention bias regarding "the ground zero mosque" speak to the ignorance of a large portion of this country. A man whose ending quote is "there is no more admirable ambition than to try to achieve a lasting peace" is described as "swine." Disregard those reviews. Is it perfect, no, is it ground breaking, not really, but it is a timely, informative, and thought provoking look at the last 20 years of "the war on terror." I would suggest watching w an open mind, I didn't find it biased or partisan, key figures on each side of the isle were able to speak their piece. As a nation I think it is important to be introspective, to try to understand how the decisions of the past directly influence our world today. It is to timely not to quote ….ha I don't know who said it but "those who do not know their history are doomed to repeat it."

Starts off decent and then becomes a biased rotten tomato. Entirely tone deaf to glorify the Mosque at Ground Zero movement among other things. Not appropriate for children who don't know when someone is masquerading politics as a documentary.

It was an interesting look into some of the events around 9/11. Really brought back memories of the time. However the 5th episode which covered the most recent events it was easy to see there was a lot of information & context missing, they rushed to get it out for the 9/11 anniversary rather than completing the documentary.

Shocking and upsetting!!! This American political documentary series explores how the catastrophic events of September 11 changed the course of the nation. It offers illuminating perspectives and personal stories about the background, the chronicle and the aftermath of the terrible catastrophe that shook the world and changed history forever. After 20 years, it is just enraging how this crisis still reverberates nowadays and it may seem like nothing has been accomplished throughout the years. Only pointless war and death.

An interesting watch, but not only does it fail to present anything new, it misses a lot of key information, and in some instances distorts the event. As an example of this distortion, the documentary splices together air traffic control and NORAD audio to try and make it sound like they knew American 77 was hijacked and heading for Washington, and they were scrambling fighters to go after it. This is a total fabrication. They used NORAD audio responding to information American 11 was still airborne and heading towards DC, cut off the part where they said "American 11" and tried to make it look like they were responding to American 77. Aside from that, there is almost nothing about the 4 pilot hijacker's activities in Germany or the US, very little mentioned about the 9/11 mastermind Khalid Sheikh Mohammed, no mention of the Bojinka plot, glosses over a lot of information surrounding Nawaf al-Hazmi and Khalid al-Mihdhar. This documentary says the CIA just didn't talk to FBI for reasons.. nonsense. There was not a lack of information sharing, the fact is the CIA kept this information from everyone, not just FBI. Even right up to the September 4 meeting, when the CIA heads are at the White House begging for action against al Qaeda, they still don't mention that 2 al Qaeda members, known to be involved for Kuala Lumpur planning session, had been in the US for over 16 months. This documentary fails to mention any of this. Overall, it's an interesting watch, but for the amount of praise this documentary is getting I was expecting a lot better. You would be better off watching "The 9/11 Hijackers: Inside the Hamburg Cell", "The Lost Tapes of 9/11", and "The Secrete History of 9/11"
See Details