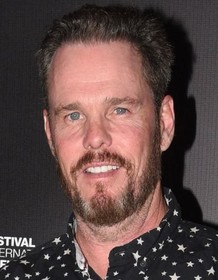 Kevin Dillon
Highest Rated: 89% Platoon (1986)
Lowest Rated: Not Available
Birthday: Aug 19, 1965
Birthplace: Mamaroneck, New York, USA
While older brother and early 1980s heartthrob Matt Dillon received the lion's share of fan mail and meaty leading roles throughout both their careers, younger sibling Kevin Dillon gravitated toward character parts, with ingratiating performances in a wide variety of films and television projects. His New York accent and flinty demeanor assured him of tough guy parts in movies like "Platoon" (1985) and "A Midnight Clear" (1992), but he could play funny too, in films like "Heaven Help Us" (1985), as well as play sensitive in "Immediate Family (1989). Television offered more rewarding parts for Dillon in the late 1990s and 2000s - with the year 2004 providing him the chance to shine apart from the famous last name when was cast as Johnny Drama, the hapless older brother of a movie superstar, in "Entourage" (HBO, 2004-11) - a part he could, no doubt, play in his sleep. He earned numerous awards and nominations for his alternately hilarious and touching performance, finally receiving the recognition that had long escaped him while in the shadow of his famous brother.
Photos
IMMEDIATE FAMILY, Glenn Close, James Woods, Mary Stuart Masterson, Kevin Dillon, 1989, (c) Columbia
THE RESCUE, Marc Price, Ned Vaughn, Christine Harnos, Kevin Dillon, 1988. ©Touchstone/courtesy Everett Collrction
HEAVEN HELP US, Kevin Dillon, 1985, (c)TriStar Pictures
THE BLOB, Kevin Dillon, 1988, (c)TriStar Pictures
POSEIDON, Kevin Dillon, 2006, ©Warner Bros.
NO ESCAPE, Ray Liotta, Kevin Dillon, 1994
HEAVEN HELP US, Patrick Dempsey, Kevin Dillon, Andrew McCarthy, Malcom Danare, Stephen Geoffreys, 1985, (c)©TriStar Pictures
IMMEDIATE FAMILY, Kevin Dillon, Mary Stuart Masterson, 1989, (c) Columbia
HOTEL FOR DOGS, Kevin Dillon, 2008. ©DreamWorks
IMMEDIATE FAMILY, Glenn Close, James Woods, Mary Stuart Masterson, Kevin Dillon, 1989, (c) Columbia
THE RESCUE, Kevin Dillon, 1988, (c) Touchstone
THE DOORS, Josie Bissett (3rd from left), Frank Whaley, Meg Ryan , Val Kilmer, Deborah Falconer, Kevin Dillon, 1991
THE BLOB, Kevin Dillon, 1988. ©Tri-Star Pictures
THE RESCUE, Marc Price, Ned Vaughn, Kevin Dillon, 1988, (c) Touchstone
PLATOON, Kevin Dillon, Charlie Sheen, 1986, (c) Orion
HEAVEN HELP US, Malcolm Danare, Kevin Dillon, Patrick Dempsey, 1985, (c)TriStar Pictures
NO ESCAPE, Kevin Dillon, Ray Liotta, 1994
PLATOON, (seated) John C. McGinley, Kevin Dillon, Francesco Quinn, Tom Berenger, (standing third from right) Richard Edson, 1986, (c) Orion
PLATOON, 1986
THE BLOB, Shawnee Smith, Kevin Dillon, Candy Clark, 1988, (c)TriStar Pictures