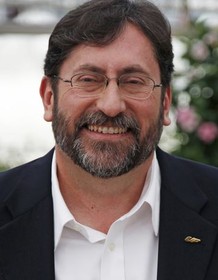 Bob Peterson
Highest Rated: 99% Finding Nemo (2003)
Lowest Rated: 69% Cars 3 (2017)
Birthday: Jan 18, 1961
Birthplace: Wooster, Ohio, USA
Bob Peterson cut his teeth as an animator on Pixar's groundbreaking computer-animated blockbuster "Toy Story" (1995), going on to become a major contributor to the cutting-edge move house's award-laden fare; most notably as co-director on the much-lauded 2009 feature, "Up." An early aficionado of and creator of cartoons, both strip and animation, Peterson came to Hollywood (at least figuratively), via the most technical route, working in the late 1980s and early 1990s for companies developing software and computer-generated image (CGI) technology, such as the pioneering Wavefront Technologies. Landing with Pixar in 1994, he would become increasingly pivotal in the creation of the shop's feature film releases, serving as story supervisor on colleague Pete Docter's directorial debut, "Monsters, Inc." (2001) and as one of the screenwriters on 2003's "Finding Nemo," the screenplay of which netted him an Oscar nomination, even as the movie took the statue for Best Animated Film. His and Docter's collaborative project "Up," an adventure comedy featuring an improbable 78-year-old hero, would bring him back into contention for a raft of awards, becoming one of the best-reviewed pictures of the year. Along the way, he added side-work as a voiceover actor in a number of Pixar productions; most prominently in "Up" as Dug, a lovably dotty canine. For a Midwestern boy who once dreamed of working for Disney, Peterson fulfilled that and more, rising to integral player in the most eye-popping and critically lauded animated entertainment of its time.
Photos
MONSTERS INC., Bob Peterson as the voice of Roz, 2001
UP, screenwriter Bob Peterson, on set, 2009. ©Walt Disney Co.