Cars 3
(2017)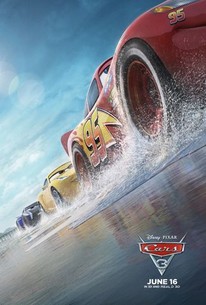 TOMATOMETER
AUDIENCE SCORE
Critic Consensus: Cars 3 has an unexpectedly poignant story to go with its dazzling animation, suggesting Pixar's most middle-of-the-road franchise may have a surprising amount of tread left.
Movie Info
Blindsided by a new generation of blazing-fast racers, the legendary Lightning McQueen (voice of Owen Wilson) is suddenly pushed out of the sport he loves. To get back in the game, he will need the help of an eager young race technician, Cruz Ramirez (voice of Cristela Alonzo), with her own plan to win, plus inspiration from the late Fabulous Hudson Hornet and a few unexpected turns. Proving that #95 isn't through yet will test the heart of a champion on Piston Cup Racing's biggest stage!
News & Interviews for Cars 3
Critic Reviews for Cars 3
Audience Reviews for Cars 3
½
I could not have been less excited about the prospect of a third Cars movie. Most would say it is fair to classify this now trilogy as the weakest link in the ever-growing Pixar brand, but I don't bring this up to quickly cut down the third installment in this franchise that has borne nothing more than extended or unnecessary narratives, but rather to commend it for stepping up its game with what is likely the last chapter largely featuring Lightning McQueen if not the beginning of a new generation of Cars films as Cars 3 actively attempts to correct much of what has dragged these films down to sub-par Pixar levels from the beginning. In 2006, an idea such as a world filled with talking vehicles and a story that paid homage to the racing world, where it'd been, and where it might be going was an inspired enough one especially considering the combination of Disney and Pixar had yet to fail to meet if not surpass expectations. There seemed so much energy and so much enthusiasm for this first endeavor and while, having re-watched that first film recently, Cars is certainly a fine enough experience it didn't transcend the genre of animated movies in the way many of its predecessors had. Rather, Cars was more along the lines of an animated movie made strictly for the kiddos rather than one that had the ability to both appeal to the children in the crowd as well as emotionally resonate with their parents. That isn't to say it didn't try, but it is in the same kind of middle area where the purpose is present yet the payoff doesn't totally work that we find Cars 3. Many will agree Cars 2 was a total misstep and deviated from what at least made the first film charming and even if the Cars movies didn't make them buttloads of cash via merchandising it would seem Pixar might be intent on course correcting for the sake of artistic credibility as Cars 3 makes a genuine attempt to steer this franchise back into the arms of what inspired it in the first place-the good ole open road. While we are eleven years down the road from the first Cars in the future the dynamic will be rather jarring as the original Cars and Cars 3 more or less bookend the career of McQueen; chronicling both how he learned to be the racer he always aspired to be as well as helping him cope with the passing of time, the passing of the baton, and understanding there might be more to life than crossing the finish line first. read the whole review at www.reviewsfromabed.com
Philip Price
Super Reviewer
½
Bless Pixar for not acknowledging Cars 2 at all for the duration of this third entry in Pixar's lesser series. Cars, the first film, was folksy and charming enough and the second was utter claptrap, hollow and heartless, but not necessarily as dreadful as it gets labeled. Luckily, Cars 3 is a course correction and touching enough to wear the Pixar label. It doesn't rise to the pinnacle of Pixar and I'd really love to see Pixar focus on more original concepts, like the upcoming Coco, but Cars 3 shifts into a pleasantly low-key groove and deals with aging and retirement in surprisingly mature ways. And the addition of a humorous female character, Cruz Ramirez, nicely infuses some heart into the story. This film really feels like a Pixar film and I'm so glad they got this series into a nice path, but hopefully Pixar aims a little higher next time. Rating: 73
The Cars franchise will probably always be known as the weakest films to ever come from Pixar, unless they really drop the ball. Personally, I really enjoyed the first instalment in this trilogy, so naturally I was looking forward to the sequel, which turned out to be a complete train-wreck of stupidity. For that reason, I had lost all interest in seeing this latest instalment, but remained optimistic in that it couldn't be any worse than its predecessor. Surprisingly, Cars 3 is just as good as the first, if not better. Yes, this film was able to pull this trilogy out of the dirt for one last ride, and it's a really solid one at that. With elements of countless comeback stories from classic rivalry films, Cars 3 embraces the cliches and elevates this third instalment to heights I never thought it would reach. Here is why this is the best possible way they could've ended this trilogy, even though nobody really asked for it. It was very clear that the response from the previous film had left audiences cold on this franchise. They would have to pull of a great hook to get the older audience members back into the theatre, and I believe this premise will do exactly that. Beginning the same way the original did, Lightning McQueen is on the race track, only this time he is racing as the reigning champ. With some new blood on the rise in Jackson Storm, McQueen is beaten badly and must recuperate and adapt to the new-age technology that these drivers are using. At its core, this really is just a comeback story involving a character you've come to love (if you liked the original that is), along with some very likeable side characters this time around. Without giving anything away about this film, my favourite aspect about the original was the growing relationship between Lightning and Doc. Hudson. Although that character passed away in the second film, they do find a way of utilizing him here and the are arc that Lightning is given made the movie as good as it is. In many ways, this is an actual improvement over the first film, but it ends up on par with it, as many of the great elements of Cars 3 harkens back to the first, so it wouldn't even be able to do certain things without the weight of the original. The portion of the film that I can discuss without spoiling anything would have to be the relationship between Lightning and his new trainer Cruze. Helping him adapt in order to be able to race the new competition, their chemistry is by far what carries this film from start to finish, which also leads me to my final point. What really put this film over the edge for me was the way the third act sells the film to kids and adults. Sure, the kids come for the comedy and the racing, which are both very much present here, but the comedy does take a back seat many times in order to serve the emotional core, which is what I enjoyed so much about the first film. There is a nice twist at the end of this film that really wraps a nice little bow around this trilogy, but too bad the second film is so bad. If you're not a fan of the original film, don't remember much about the original film, or are viewing this movie as your first experience in the world of Cars, then this twist won't have much of an impact on you, but for fans like myself, the payoff is well worth it. In the end, Cars 3 definitely won't win anyone over who wasn't a fan to begin with, but if you've sat through the last two films then I can see where some may agree that it has a very satisfying conclusion. The premise is cliched and most of the film is fairly predictable, but the twists more than make up for that and the relationships between characters are really well-done here. Cars 3's animation is some of Pixar's best yet, looking photo-realistic at times, and score for the race sequences got my adrenaline pumping, just like it did in the first. This is a great example of a movie that works equally for kids and adults. There is a much more mature story under the surface, while the kids still get the beautiful imagery and their favourite characters to gawk at on-screen. It doesn't break any new ground, but Cars 3 is far better than I was expecting it to be. Great conclusion to a very uneven trilogy.
Cars 3 Quotes
There are no approved quotes yet for this movie.
Discussion Forum
Discuss Cars 3 on our Movie forum!