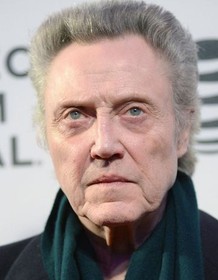 Christopher Walken
Highest Rated: 97% Annie Hall (1977)
Lowest Rated: 6% Gigli (2003)
Birthday: Mar 31, 1943
Birthplace: Astoria, New York, USA
Having made the rare successful transition from child player to adult star, Christopher Walken went on to become one of the most respected and sometimes feared performers on screen, if only because of his offbeat portrayal of sinister villains. With a dry, deadpan delivery that was oft-imitated by his contemporaries, Walken himself was as much of a cultural phenomenon as some of his performances. After cutting his teeth on the stage in musicals and later dramatic productions, he made his first impression on film as the demented brother of the titular "Annie Hall" (1977) before winning an Academy Award for his tormented Vietnam veteran who becomes obsessed with playing Russian roulette in "The Deer Hunter" (1978). With his status secure, Walken spent the next few decades turning in numerous performance gems in a never-ending string of projects that ranged from Oscar-winning films to bargain bin rentals, including "Biloxi Blues" (1988), "True Romance" (1993) and "Pulp Fiction" (1994). Peppered into his résumé were some of the most outlandish, over-the-top villains ever put on film, like the bleach-blonde industrialist Max Zorin in "A View to a Kill" (1985); the corrupt business man, Max Shreck, who wears human molars as cuff links in "Batman Returns" (1992); and the sadistic Headless Horseman in "Sleepy Hollow" (1995). Though occasionally in danger of self-parody throughout his career, Walken was always relevant, as the "More Cowbell" skit on "Saturday Night Live" (NBC, 1975) indicated. He was also capable at any time of turning in an Oscar-caliber performance, as he did in "Catch Me If You Can" (2002), proving that the always unpredictable Walken was worthy of his stature as one of the most respected actors working in Hollywood.
Photos
A BUSINESS AFFAIR, Carole Bouquet (front), Christopher Walken, 1994, © Castle Hill
NICK OF TIME, from left: Christopher Walken, Johnny Depp, 1995. ©Paramount Pictures.
THE DEER HUNTER, Christopher Walken, 1978. (c) Universal Pictures.
THE RUNDOWN, Rosario Dawson, Dwayne Johnson (aka The Rock), Seann William Scott, Christopher Walken, 2003, ©Universal
NEXT STOP, GREENWICH VILLAGE, Christopher Walken, 1976. TM and Copyright (c) 20th Century Fox Film Corp. All rights reserved..
THE DOGS OF WAR, Christopher Walken, 1981, (c) United Artists
A VIEW TO A KILL, Roger Moore, Christopher Walken, 1985, © MGM
THE DOGS OF WAR, Christopher Walken (center), 1981, (c) United Artists
TOUCH, Christopher Walken, 1997, (c) United Artists
DOGS OF WAR, Christopher Walken, 1981. (c) United Artists
A BUSINESS AFFAIR, Christopher Walken, 1994, © Castle Hill
THE DEER HUNTER, Christopher Walken, John Savage on set, 1978, (c) Universal
MAN OF THE YEAR, Lewis Black, Robin Williams, Christopher Walken, 2006, ©Universal
THE DEER HUNTER, Christopher Walken, Robert De Niro, 1978, (c) Universal
THE DEER HUNTER, Christopher Walken, Robert De Niro, John Savage, Meryl Streep, 1978, (c) Universal
HEAVEN'S GATE, Christopher Walken, Isabelle Huppert, Kris Kristofferson, 1980, (c) United Artists
THE DOGS OF WAR, Novelist Frederick Forsyth, Christopher Walken, 1981
BALLS OF FURY, Christopher Walken, Aisha Tyler, 2007. ©Rogue Pictures
THE DOGS OF WAR, Christopher Walken, Jean-Francois Stevenin, Paul Freeman, 1981, (c) United Artists
THE DOGS OF WAR, Christopher Walken, 1981, (c) United Artists