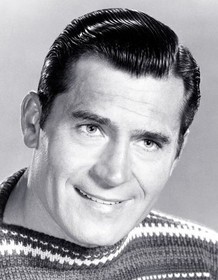 Clint Walker
Highest Rated: 81% The Dirty Dozen (1967)
Lowest Rated: 17% The White Buffalo (1977)
Birthday: May 30, 1927
Birthplace: Hartford, Illinois, USA
Among the most well known screen cowboys from the golden age of Western cinema, Clint Walker was born Norman Eugene Walker in Hartford, Illinois in 1927. Growing up during the Great Depression meant moving from town to town with his family as they looked for work, and Walker soon took up the enterprise himself, leaving school to work in a factory and then on a riverboat, later signing with the Merchant Marines at age 17. It was after Walker had served his term and was working as a security guard at a Las Vegas casino that a friend suggested he try his hand at acting. One of his friends in the industry gave him the chance to meet Cecil B. DeMille practically as soon as he arrived in Hollywood, and lucky for the young actor, the great director took a liking to him. Walker's first credited on-screen role was in the blockbuster "The Ten Commandments" (1956) under the stage name Jeff Norman. Almost as quickly, he had the opportunity to audition for a new Western TV series called "Cheyenne" (ABC, 1955-1962). He won the title role, and settled on the name Clint Walker. He would go on to portray Cheyenne the wandering adventurer from 1955 to 1962, and later found similar success in movies. Walker would co-star in Westerns like "The Dirty Dozen" (1967) and "Pancho Villa" (1972), and even made a cameo appearance as Cheyenne in an installment in Kenny Rogers' popular series of TV movies, 1991's "The Gambler Returns: Luck of the Draw" (NBC, 1991). Walker's final role came seven years later, when he provided the voice of Nick Nitro for the movie "Small Soldiers" (1998). Clint Walker died in 2018. He was 90 years old.
Photos
THE GREAT BANK ROBBERY, Kim Novak, Clint Walker, 1969
YELLOWSTONE KELLY, Clint Walker, 1959.
YELLOWSTONE KELLY, Clint Walker, Edd Byrnes, 1959
YELLOWSTONE KELLY, Clint Walker, 1959
SAM WHISKEY, from left: Ossie Davis, Clint Walker, Anthony James, 1969
SCREAM OF THE WOLF, Clint Walker, 1973
GREAT BANK ROBBERY, THE, Clint Walker, 1969
THE GREAT BANK ROBBERY, Clint Walker, 1969
NONE BUT THE BRAVE, Clint Walker, Frank Sinatra, 1965
NONE BUT THE BRAVE, Tommy Sands, Clint Walker, 1965
YELLOWSTONE KELLY, Andra Martin, Clint Walker, 1959
SEND ME NO FLOWERS, from left, Doris Day, Clint Walker, on-set, 1964
THE DIRTY DOZEN, crouching and seated from left: Telly Savalas, Donald Sutherland, John Cassavetes; standing from left: Clint Walker, Al Mancini, Jim Brown, Stuart Cooper, Trini Lopez (helmet), Ben Carruthers (top), Tom Busby, Colin Maitland, Charles Brons
THE DIRTY DOZEN, Clint Walker, Telly Savalas, Jim Brown, Trini Lopez, Donald Sutherland, Charles Bronson, John Cassavetes, 1967
THE DIRTY DOZEN, Lee Marvin (center), Clint Walker (right), 1967
GOLD OF THE SEVEN SAINTS, Clint Walker, 1961
NONE BUT THE BRAVE, Frank Sinatra, Clint Walker, 1965
SAM WHISKEY, Clint Walker, Ossie Davis, 1969
GOLD OF THE SEVEN SAINTS, Clint Walker, Roger Moore, 1961
THE DIRTY DOZEN, John Cassavetes, Jim Brown, Donald Sutherland, Clint Walker, Charles Bronson, Lee Marvin, 1967