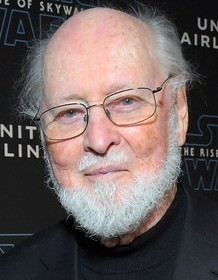 John Williams
Highest Rated: 100% The Shark Is Still Working (2006)
Lowest Rated: Not Available
Birthday: Feb 8, 1932
Birthplace: Queens, New York, USA
Though he had written film scores for some of the greatest directors of all time, including Alfred Hitchcock, Oliver Stone, and George Lucas, composer John Williams was clearly defined by his long-running collaboration with Steven Spielberg. Though prolific and accomplished in his own right, Williams reached unprecedented heights, thanks to his iconic scores for Spielberg-helmed classics "Jaws" (1975), "Close Encounters of the Third Kind" (1977), "Raiders of the Lost Ark" (1981) , "E.T.: The Extra-Terrestrial" (1982), and "Jurassic Park" (1993). Spielberg even had an indirect hand in Williams composing the music for "Star Wars" (1977), perhaps the most iconic and popular film score ever recorded. In all, Williams was decorated with an incalculable number of awards, including Grammys, Oscars and Golden Globes, while earning a reputation for churning out high quality work but with a rare degree of humility and self-effacement. Outside of his work with Spielberg and Lucas, he was responsible for other culturally-prominent scores, including "Superman: The Movie" (1978) and "Harry Potter and the Sorcerer's Stone" (2001). Though his output declined in his later years - he was an active conductor of the world's greatest orchestras - Williams remained, without a doubt, the most successful film composer of all time.
Photos
John Williams at arrivals for 44th AFI Life Achievement Award Gala, The Dolby Theatre at Hollywood and Highland Center, Los Angeles, CA June 9, 2016. Photo By: Priscilla Grant/Everett Collection
SUPERMAN, John Williams Conducting score, 1978. (c) Warner Bros..
SUPERMAN, John Williams Conducting score, 1978. (c) Warner Bros..
MEMOIRS OF A GEISHA, composer John Williams, violinist Itzhak Perlman, koto player Ishigure Masayo, director Rob Marshall, cellist Yo-Yo Ma, 2005. ©Columbia Pictures
The 35th Annual Kennedy Center Honors, John Williams, 12/26/2012, ©CBS
The 35th Annual Kennedy Center Honors, John Williams, 12/26/2012, ©CBS
DECONSTRUCTING DAD: THE MUSIC, MACHINES AND MYSTERY OF RAYMOND SCOTT, John Williams, 2010. ©Cavu Pictures