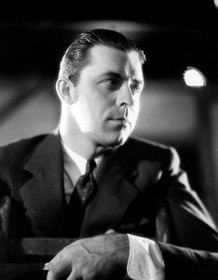 Lyle Talbot
Highest Rated: 88% Sunrise at Campobello (1960)
Lowest Rated: 29% Jail Bait (1954)
Birthday: Feb 8, 1902
Birthplace: Pittsburgh, Pennsylvania, USA
This reliable second lead played gangsters, best friends, neighbors and the occasional romantic hero in countless films and TV shows from 1932 through the 1980s. Talbot's colorful childhood was like something from a melodrama: born on a riverboat, he was abducted by his grandmother after his mother's early death. By his teen years, Talbot was a sideshow magician, and by the late 20s was running The Lyle Talbot Players in Nebraska. When talking pictures became popular, Talbot headed West. The handsome, husky actor with stage training and a broad grin quickly found work.
Photos
TORTURE SHIP, Lyle Talbot (seated), Jacqueline Wells (aka Julie Bishop), Irving Pichel, 1939
GO WEST, YOUNG MAN, Lyle Talbot, Randolph Scott, Mae West, Warren William, 1936
SECOND FIDDLE, Lyle Talbot, 1939, TM and copyright ©20th Century Fox Film Corp. All rights reserved .
NO MORE ORCHIDS, Carole Lombard, Lyle Talbot, 1932
MURDER BY AN ARISTOCRAT, Lyle Talbot, 1936
FOG OVER FRISCO, Lyle Talbot, 1934
RETURN OF THE TERROR, Lyle Talbot, 1934
A SHRIEK IN THE NIGHT, Lyle Talbot, 1933
ATOM MAN VS. SUPERMAN, Kirk Alyn as Superman (center), Lyle Talbot (right), 1950
A SHRIEK IN THE NIGHT, Lyle Talbot, 1933
CHINATOWN SQUAD, Lyle Talbot, 1935
NO MORE ORCHIDS, from left: Carole Lombard, Lyle Talbot, 1932
TRAPPED BY TELEVISION, from left, Lyle Talbot, Mary Astor, 1936
ONE NIGHT OF LOVE, Grace Moore, Lyle Talbot, Tullio Carminati, 1934
MIND YOUR OWN BUSINESS, Lyle Talbot (left), Los Angleles Boy Scout Troop #107, 1936
ATOM MAN VS SUPERMAN, from left: Kirk Alyn, Noel Neill, Terry Frost, Paul Stader, Lyle Talbot (sitting with helmet), Rusty Wescoatt, 1950
ATOM MAN VS SUPERMAN, Lyle Talbot, 1950
AFFAIRS OF CAPPY RICKS, Lyle Talbot, Mary Brian, Walter Brennan, 1937
SHRIEK IN THE NIGHT, Ginger Rogers, Lyle Talbot, Lillian Harmer, 1933
MANDALAY, Lyle Talbot, Kay Francis, 1934