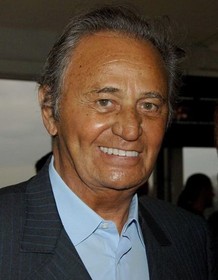 Roger Hanin
Highest Rated: 96% Breathless (1959)
Lowest Rated: 80% He Who Must Die (1957)
Birthday: Oct 20, 1925
Birthplace: Algiers, France
Roger Hanin was an actor who had a successful Hollywood career. Hanin kickstarted his acting career in various films such as the dramatic adaptation "He Who Must Die" (1958) with Pierre Vaneck, the dramatic adaptation "The Cat" (1959) with Francoise Arnoul and "Tamango" (1959) with Dorothy Dandridge. He also appeared in "Breathless" (1961) with Jean-Paul Belmondo, "Rocco and His Brothers" (1961) with Alain Delon and "The Tiger Likes Fresh Blood" (1964). He continued to act in productions like the Jacques Portet drama "Le Clair de terre" (1970), "Les Aveux les plus doux" (1971) and "La Raison du plus fou" (1972). He also appeared in the William Holden western "The Revengers" (1972). Film continued to be his passion as he played roles in "La Baraka" (1982), "Le Grand Carnaval" (1983) and "L' Etincelle" (1983). He also appeared in "Train d'Enfer" (1984) and "Attention! Une femme peut en cacher une autre" (1985). Hanin most recently acted in the Sophia Loren dramatic period piece "Soleil" (1999).
Photos
LE GRAND PARDON, from left: Richard Berry, Roger Hanin, 1982, © Gaumont
LE GRAND PARDON, Roger Hanin (hand on shoulder), 1982, © Gaumont
ROCCO AND HIS BROTHERS, (aka: Rocco e i suoi fratelli), Alain Delon, Roger Hanin, 1960.
LE GRAND PARDON, Roger Hanin (and in photograph), 1982, © Gaumont
LA RUMBA, Niels Arestrup, Roger Hanin, 1986
LE GRAND PARDON, from left: Roger Hanin, Anny Duperey, 1982, © Gaumont
LE GRAND PARDON, Roger Hanin (handcuffed), Jean-Louis Trintignant (at car), 1982, © Gaumont