Dark Water
(2002)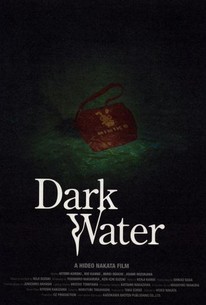 Movie Info
Following up on his horror smash hits Ringu and Ringu 2, Hideo Nakata directs this supernatural psychological drama about a middle aged woman struggling to cling to her sanity. Yoshimi Matsubara (Hitomi Kuroki) is the midst of a nasty divorce with her thuggish, abusive husband over the custody of their five year old daughter Ikuko (Rio Kanno). In Japan's family court system, which is heavily weighted towards the mother, Yoshimi case would normally be a piece of cake. Unfortunately, Yoshimi has a history of mental imbalance as a result of her miserable, emotionally starved childhood. The transition from housewife to independent working woman has been stressful. She has moved into a fleabag of an apartment -- completely with a constantly leaking roof -- and has had little luck finding employment. Worse, Ikuko and then Yoshimi start seeing a creepy little girl dressed in yellow suddenly appearing in apartment. With a growing sense of dread, Yoshimi starts having outbursts not only in family court, but also at her daughter's kindergarten. When she slumps into a coma after the end of one such fit, she realizes what the girl in yellow is trying to communicate.
News & Interviews for Dark Water
Critic Reviews for Dark Water
Audience Reviews for Dark Water
½
17/06/2010 (DVD) This is a classy horror that has a decent drama-style structure. It is a bit draggy at first but the interest keeps you there till the impact.. Although it's very predictable (most films are these days), I really didn't mind it, it's just like having a different drink with the same vitamins if you know what I mean. It's a different movie with the same outline. But like drinks, there are ones I like better than others, and this is one of them. A worthy play in my opinion, its suspenseful, dramatic, tragic and emotionally disturbing. A dreadful horror indeed!
EightThirty .
Super Reviewer
½
Ringu director, Hideo Nakata, steps back into the Japanese horror scene with Dark Water. There is nothing really wrong with this picture, but there is also nothing really special either.
The story is slow going and is somewhat predictable. That shouldn't turn people away because horrors are all about the suspense and thrill ride. The run time is only 95 minutes and more than half of that is spent building up the story and the characters. This is fine and dandy, but there are times where this film spends too much time meandering on certain story elements, which makes for uneventful segments. Of course, people will say that all this just makes the ending that much more better.
The scares are scarce, however the suspense is definitely there, especially at the end. There are small hints and glimpses for the bulk of the film, but the last 20 minutes do get freaky. The usual girl with long hair character is frightening and even though it is unoriginal, it is still an effective element to this horror movie.
Hitomi Kuroki is an OK lead. There isn't enough screaming and kicking going on in here for her to show her stuff. Rio Kanno is quite entertaining as the young Ikuko. Male actors do exist in this picture and their acting is decent, but their characters are forgettable. Asami Mizukawa shows potential, however she is only there to add a little more story to the ending. "My mother was here all that time... protecting me."
Dark Water will not blow anybody away or scare the living daylights out of a person, but this is still a watch that isn't regrettable for Japanese horror fans.
This is my idea of a horror movie. No junk, no noise, no random jolts, but plenty of fear, delivered quietly and compactly, without fuss. It's the most suspenseful movie I've seen since "Ring," and I think it's even better. Like that movie, it put my stomach in knots to prep them for the chills, which rose up like waves out of calm water. I thought "Ring" rather like a Robert Aickman story; this is as near as a movie can come. The director has uncanny skill in knowing where to place the camera and how long to hold a shot. And the leading actress gives a wonderful performance. Her face in the elevator...but that would be giving it away. The conclusion is foreseeable--maybe the ends of all ghost stories are foreseeable--but nonetheless satisfying. If you like tales of quietly disturbing dread, this is one for you.
Cassandra Maples
Super Reviewer
Dark Water Quotes
There are no approved quotes yet for this movie.