The Unknown
(1927)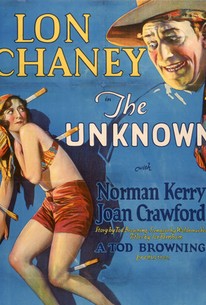 Movie Info
Another typically morbid Chaney film has him working as a circus freak and trying to win the heart of his assistant. Alas, she does not want him so he must kill the object of her intentions.
Critic Reviews for The Unknown
Audience Reviews for The Unknown
½
A brilliant love story, I loved it, I just wish it were a bit longer, but other than that, it's perfect. It's a love story about obsession, lies, and murder. And the climactic scene towards the end was riveting. And Lon Cheney is fantastic as a 'one armed' man. I highly recommend this movie.
The Unknown has some of the best acting I have ever seen in a Silent Film, mostly coming from Lon Chaney. This is a wonderful horror film with a great star sprinkled cast including Joan Crawford and Lon Chaney, and directed by horror film veteran director, Tod Browning. This is widely considered to be one of the greatest silent horrors and I would have to agree here. I really enjoyed this whole thing, mostly the great looking sets and amazing plot. Alonzo the Armless is a fugitive who poses as a circus freak, who pretends to be an armless knife thrower. When in reality he just ties his arms down and goes on stage like that, did i mention that he has two thumbs on his left hand? Well, Joan Crawford plays his beautiful assistant and love interest, her father is the circus owner. One night the Circus owner notices that Alonzo has arms and he is faking his circus freakishness, threatened, Alonzo kills the circus owner by choking him to death only to be witnessed from behind by Joan Crawford! She can't make out his face but she knows the killer has two thumbs on his left hand! Wow, it gets crazy and I'm not going to go into it. If you want to know what happens go SEE THE MOVIE!!! Its really worth it you will enjoy this, even if you don't want to watch a Silent movie because it sounds boring to you. This movie is one of the best silents I have ever seen, I know i keep saying that but I can't stress it enough. I guess that there are some missing scenes too from the movie, which kind of bring it down in points for me and the run time is pretty short, its only 62 minuets long. I am giving this movie 8 - 10 on the scareometer. I highly recommend this movie and would love to hear what you all think about this American classic horror. That's it for now, go rent or do whatever to see this! Cojo looks like Oscar from the Office S!D
Brandon Siddall
Super Reviewer
wow. tod browning was one twisted fuck. this is like a precursor to freaks, with joan crawford when she was still cute and a standout performance by lon chaney. one of the stranger films you'll ever see
Stella Dallas
Super Reviewer
The Unknown Quotes
There are no approved quotes yet for this movie.
Discussion Forum
Discuss The Unknown on our Movie forum!