Malevolence
(2004)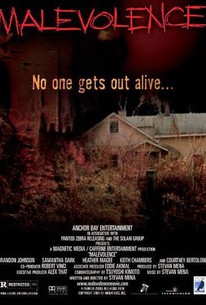 Movie Info
A handful of bank robbers on the run stumble upon a danger far worse than the police in this horror opus. Julian (Brandon Johnson) and Marylin (Heather Magee) are a young couple who have fallen deep in debt. Desperate to get back on their feet again, they team up with Marylin's brother Max (Keith Chambers), an ex-con, and his buddy Kurt (Richard Glover) to rob a bank. On the run from the law after the robbery turns into a shoot-out, Kurt impulsively grabs a woman named Samatha (Samatha Dark) and her daughter as hostages, and head out to what they believe is an abandoned farmhouse in a sparsely populated rural village. However, the thieves and the hostages quickly discover the house is not abandoned after all; a serial killer who has been preying on the community for decades has been using the house as a base of operations, and the criminals soon find themselves at the mercy of a horror more gruesome than they could ever have imagined. Malevolence is the first feature film from long-time horror fan Stevan Mena.
People Who Like this movie also like
Critic Reviews for Malevolence
Audience Reviews for Malevolence
This is the middle section of a three-part trilogy. "Malevolence" was a well-made low-budget slasher and very effective, extremely well-done photography BUT it heavily use the slasher clichés BUT it is still a worth checking in the genre.
This horror film was pretty good. It had a great story and antagonist.
Jacob Palacio
Super Reviewer
Malevolence Quotes
There are no approved quotes yet for this movie.