The Blue Bird
(1976)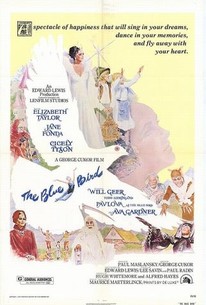 AUDIENCE SCORE
Critic Consensus: No consensus yet.
Movie Info
In this elaborate fantasy, two peasant children search for the mythical bluebird of happiness. This film is a remake of a 1940 flop, which in turn is a remake of a 1918 film. This version was hailed as the first collaborative film made between the U.S. and the Soviet Union.
Critic Reviews for The Blue Bird
All Critics (2) | Fresh (0) | Rotten (2)
It seems to be a contest over who can deliver the worst performance (I think Fonda wins, but it's a close call) as they all prance around bad sets in even worse costumes.
Gooey and stupid.
March 9, 2005 | Rating: 0/5
Audience Reviews for The Blue Bird
½
Okay version of the story but best for young children or fans of the stars. Some of the costumes are amazing but for something that apparently cost many millions most of the sets are terribly shoddy.
For the crime of going into forbidden territory on the other side of the river, their mother(Elizabeth Taylor) sends Tyltyl(Todd Lookinland) and Mytyl(Patsy Kensit) to bed without dinner, but soon has second thoughts. By that time, her children are already dreaming of a lavish party at a nearby castle. When they return, they are greeted by a witch(Elizabeth Taylor) who gives Tyltyl a magic hat which sheds light on the situation, revealing the souls of many household elements who help the children on a quest to find the blue bird. Their first stop is to visit their late grandparents(Will Geer & Mona Washbourne). Once you get past some of the outre elements of "The Blue Bird" like its occasionally imaginative production design and a once in a lifetime cast that also includes Cicely Tyson and an out-of-sorts Jane Fonda(at least Ava Gardner knows how to make an entrance), what is left is a sweet childhood fable that has the neat moral of treasuring what is truly important in life. At the same time, it confirms what everybody has always suspected about cats. That holds true even with the movie's half-hearted attempt at being a musical.
The Blue Bird Quotes
There are no approved quotes yet for this movie.