The Intruder (L'Intrus)
(2005)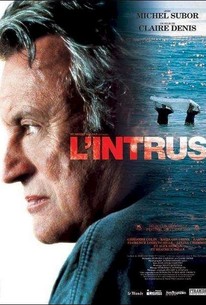 The Intruder (L'Intrus) Videos
The Intruder (L'Intrus) Photos
Movie Info
Claire Denis' elliptical drama L'Intrus was inspired by a short book written by philosopher Jean-Luc Nancy about his heart transplant. In the film, Michel Subor (Le Petit Soldat) stars as Louis, who lives fairly self-sufficiently in a small cabin in the snowy wilds near the Swiss border. Louis has a son (Grégoire Colin, who also starred with Subor in the director's Beau Travail) whose wife (Florence Loiret-Caille) is a border guard, and they have two young children, but Louis has a strained relationship with his family. He lives a hard, stoic life out in the cold. Mysterious strangers cross the border at all hours of the day and night, and Louis vigilantly -- sometimes violently -- protects his homestead. It soon comes to pass that he needs a heart transplant. Louis quickly and quietly makes some arrangements, and travels to Pusan for the operation. He makes the demand that he be given a young man's heart, and not a woman's. His health still failing, Louis then travels to Tahiti, hoping for a final reunion with another son, whom he abandoned years before. The footage of the young Subor in Tahiti was taken from an uncompleted adaptation of a Robert Louis Stevenson story directed by Paul Gégauff. L'Intrus also stars Béatrice Dalle, Katia Golubeva, and Alex Descas in smaller roles. The film was shown by the Film Society of Lincoln Center as part of 2005's Rendez-Vous With French Cinema. ~ Josh Ralske, Rovi
Rating:
G
Genre:
,
Directed By:
Written By:
In Theaters:
On DVD:
Box Office:
$4,640.00
Runtime:
Studio:
Wellspring
Critic Reviews for The Intruder (L'Intrus)
Audience Reviews for The Intruder (L'Intrus)
While I appreciate minimalist dialogue, and it was cinematographically beautiful at times, I found this too slow and boring.
Jeff B
½
An extremely murky script and cinematography together doom this picture. As for the acting? Well, there really isn't any. The players are only occasionally glimpsed in the darkness. Some critic here who describes L'Intrus as "Impressionistic" is clueless.
Hal Morris
[center][font=Times New Roman][size=4][img]http://1.bp.blogspot.com/_3mCOm4wxK3M/SOy1qKGe5HI/AAAAAAAAA6g/8GdM6GymteM/s400/intruder2.jpg[/img][/size][/font][/center] [font=Times New Roman][size=4]Summary (from IMDB): Louis Trebor lives alone with dogs in the forest near the French-Swiss border. He has heart problems, seeks a transplant, and then goes in search of a son sired years before in Tahiti. Will his body accept his heart? Will his son accept his offer?[/size][/font] [center][img]http://4.bp.blogspot.com/_3mCOm4wxK3M/SOy1n2KGnyI/AAAAAAAAA6Y/OmaTJkXjsRc/s400/intruder.jpg[/img][/center] [font=Times New Roman][size=4]Honestly, I don't really know what to say. L'Intrus is first and most obvious and treat in cinematography. It's up there as one of the best visual experiences I've ever had. The Denis, Godard combination seems to be unstoppable. To say that I had any idea what was going on narrative-wise would be a bold-faced lie, though. I could follow the very basic narrative outline, but I had a lot of trouble figuring out most of this. I've grouped this in the same rating category as another film I know I like, but can't quite grasp - Zerkalo.[/size][/font]
Chris Weseloh
The Intruder (L'Intrus) Quotes
There are no approved quotes yet for this movie.