À tout de suite (Right Now)
(2005)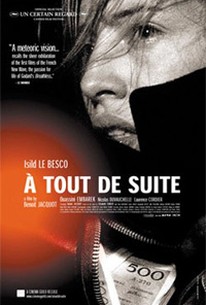 À tout de suite (Right Now) Photos
Movie Info
Four nameless people are brought together by crime and circumstances in this visually striking drama. A naïve young woman (Isild Le Besco) who studies art and lives with her wealthy family goes to a nightclub one evening and meets a mysterious young man of Moroccan heritage (Ouassini Embarek). The two are immediately attracted to one another, and spend the night together. Not long afterward, the woman gets a phone call from her new lover, who has disturbing news -- he's in the midst of a bank robbery that's gone wrong, and several of his accomplices have been shot by the police. The woman offers to hide the man from the authorities, and he soon arrives with the only member of his crew to made it out alive (Nicolas Duvauchelle). They spend the night hiding out with the young woman, and the next morning, the accomplice's girl (Laurence Cordier) joins the party as the foursome leave France for Spain. However, the thieves and their women don't take well to exile; personality clashes arise, and they discover that the stolen money is more readily identifiable than they imagined. À Toute de Suite was screened as part of the "Un Certain Regard" series at the 2004 Cannes Film Festival.
Critic Reviews for À tout de suite (Right Now)
Audience Reviews for À tout de suite (Right Now)
Starts out and mostly finishes as a typical French disaffectation piece - a bored young woman with a well-off family runs away to find herself - but creates an interesting subversion by making her self-discovery really suck. Running away with her fugitive boyfriend initially seems like it'll be a grand adventure, but things go very quickly sour and the experience presents very few positive aspects for our poor nameless heroine. The narrative is pretty interesting, but its delivery feels stilted and ineffective. There's only so many times characters can refuse to introduce themselves or pause for half-minutes at a time before you realize the movie is mostly hot air. Things in Right Now feel organic in that "life imitates art" way, and the little glimpses we get at the main character before her escape indicate that she's a dissatisfied romantic who WOULD follow some sparkly bit of false hope out of a safe existence; unfortunately, the careful crafting of the situation is betrayed by the movie's peculiar interactions. Isild Le Besco is a different leading lady, peculiar-looking and not super expressive. I constantly felt that she wasn't quite right as I watched the movie, and perhaps it was the movie's intention that it never really let me into how she was feeling or what she was thinking, but I would have preferred a slightly less obtuse actress. Her lack of emotional signposting makes some of the sexual scenes especially bizarre. Pretty interesting, well worth the time, but you're better off watching Breathless.
Drew Smith
Super Reviewer
[font=Century Gothic]With "A Tout de Suite," writer-director Benoit Jacquot has made another rumination about the reverbations of women's actions.("Sade" being an exception to this rule.) In other words, if we have freedom, than we must accept the consequences of our actions. Whether this is sexist depends on the circumstances of the specific movie.("Seventh Heaven" did give me cause for concern.) Here, it is 1975 and a 19-year old talented but unenthusiastic art student(Isild Le Besco), who lives at home with her father and sister, a university student, gets involved with bank robbers after becoming smitten with one of them(Ouassini Embarek). Even knowing who they are, she still decides to leave home with them. It is clear that she is naive about the world around her but not about sex.[/font] [font=Century Gothic][/font] [font=Century Gothic]"A Tout de Suite" is shot in black and white(which I am such a sucker for). The movie emulates the French New Wave with its jump cuts and loose story structure. Some stock footage is added to make it look more like 1975.[/font]
À tout de suite (Right Now) Quotes
There are no approved quotes yet for this movie.