Allegro
(2006)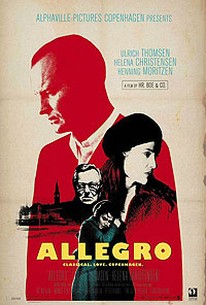 Movie Info
Drawing inspiration from famed Russian filmmaker Andrei Tarkovsky's 1979 sci-fi classic Stalker, director/co-screenwriter Christoffer Boe's heady tale of love and memory follows an acclaimed Danish pianist as he sets out to a mysterious area known only as "The Zone" in hopes of reclaiming his memories and reconnecting with his past. Zetterstrom (Ulrich Thomsen) is a pianist who has sacrificed human emotion in order to achieve perfection. Though many years have passed since Zetterstrom left his native Copenhagen to live in New York, he is now drawn back to his birthplace in order to take part in a gala concert. Upon arriving in Copenhagen, Zetterstrom is contacted by a messenger from an off-limits area of the city known only as "The Zone" and offered an opportunity to remember his long forgotten love for the beautiful Andrea (Helena Christensen). Yet while "The Zone" can indeed resurrect the memories of the past, Zetterstrom will soon discover that there are limits to what one can accomplish by visiting this mysterious and magical landscape. ~ Jason Buchanan, Rovi
News & Interviews for Allegro
Critic Reviews for Allegro
Audience Reviews for Allegro
Although I'm not entirely pleased with the dogma-like direction the core of the story is intelligent, and as most sad things, very beautiful.
Pierluigi Puccini
Super Reviewer
[font=Century Gothic]In "Allegro," it has been ten years since Andrea(Helena Christensen), the love of the live of Zetterstrom(Ulrich Thomsen), a concert pianist, walked out of his life. In the interim, a small section of his native Copenhagen has been sealed off behind an impenetrable force field in an area called the Zone which many fear is in rubble.(Well, it could be worse. It could be a giant ESPNZone restaurant.) While in New York, he is invited back to perform just across the way from there...[/font] [font=Century Gothic][/font] [font=Century Gothic]"Allegro" is a pretentious and dull piece of drivel that feels like a bad episode of "The Twilight Zone" by way of Tarkovsky. It would have at least been interesting(if not terribly original, maybe) if the movie had gone with more of a "Sapphire and Steel" approach with a flexible time zone in order to depict the important events in Zetterstrom's life, instead of just deriding his accomplishments and forgetting any pleasure his performances may have given. Sure, he is eccentric and does not like to perform(I don't like anybody looking over my shoulder, either), but there are other ways he could earn a living, such as recordings.[/font] [font=Century Gothic][/font] [font=Century Gothic]So, why do people keep making movies about characters they obviously have no sympathy for?[/font]
Allegro Quotes
There are no approved quotes yet for this movie.