Who Needs Sleep?
(2006)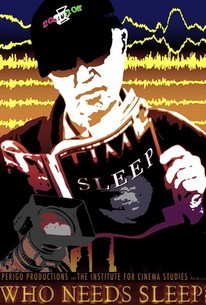 Movie Info
In 1997, Brent Hershman had spent 19 hours hard at work as a camera assistant on the set of the film Pleasantville one day before he was allowed to go home. The exhausted Hershman fell asleep at the wheel of his car shortly afterward, and died in an auto accident. The event sent shock waves through the entertainment industry, and led a number of union representatives in the film and television community to demand "twelve on, twelve off" regulations, in which crew members would not be allowed to work more than 12 hours at a stretch, with a 12-hour break following. However, many studios and producers have bristled at this suggestion, believing the long hours on a film set are an economic necessity. Haskell Wexler, a veteran filmmaker, cinematographer, union representative and political activist, is an active supporter of the "twelve on, twelve off" proposal, believing long hours are not only dangerous for the health and personal lives of workers, but they result in sloppy, poorly focused work that causes more problems than it solves. Who Needs Sleep? is an activist documentary produced and directed by Wexler which examines the dangers of sleep deprivation, the risks it can pose for workers, and the need for humane worker protection legislation in the entertainment industry (as well as other businesses). Who Needs Sleep? includes interviews with filmmakers Richard Donner, John Sayles, and Richard D. Zanuck, cameramen Vilmos Zsigmond, Conrad L. Hall, and Roger Deakins, and actors Tom Hanks, Julia Roberts, Annette Bening, and Tyne Daly.
Critic Reviews for Who Needs Sleep?
Audience Reviews
There are no featured reviews for Who Needs Sleep? at this time.
Who Needs Sleep? Quotes
There are no approved quotes yet for this movie.