Street Fight
(2005)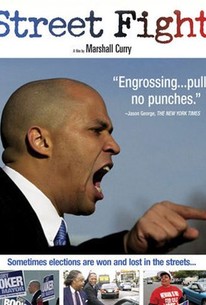 Movie Info
"Street Fight" chronicles the bare-knuckles race for Mayor of Newark, N.J. between Cory Booker, a 32-year-old Rhodes Scholar/Yale Law School grad, and Sharpe James, the four-term incumbent and undisputed champion of New Jersey politics. Fought in Newark's neighborhoods and housing projects, the battle pits Booker against an old style political machine that uses any means necessary to crush its opponents: city workers who do not support the mayor are demoted; "disloyal" businesses are targeted by code enforcement; a campaigner is detained and accused of terrorism; and disks of voter data are burglarized in the night. "Street Fight" tells a gripping story of the underbelly of democracy where elections are not about spin-doctors, media consultants, or photo ops. In Newark, we discover, elections are won and lost in the streets.
Rating:
NR
Genre:
,
Directed By:
Written By:
In Theaters:
On DVD:
Runtime:
Studio:
Critic Reviews for Street Fight
Audience Reviews for Street Fight
I didn?t see this movie recently, which is when I usually review these things. But I remembered to return this to my cousin, so I?ll write it now. (SPOILER, for as much as a documentary about politics can be spoiled) The thing about this movie was that I watched it thinking it was the election he won. I guess it took a long time to edit and get it released. This was a well done documentary that really shows the underdog story and is cleverly edited and benefits from being in the right place and the right time. This movie could have been a cruise control kind like Murder on a Sunday Morning, but it eases of the history, shows dynamic action in the present, walks you through linearly with suspense and tries hard to make sure the oppressed production gets to tell the whole story. So, for that, 4 stars.
Lee B
Great Documentary that takes you deep into the crazy world of New Jersey politics. NJ is one of the most corrupt states in the United States and has been for a long time. You probably can't mow your lawn without a permit in some towns. This film takes place in the largest and also its worst city, Newark, during the 2002 mayor race. The film focuses around Cory Booker's campaign. it really shows you all the ups and downs that he had to go through to get where he is today. To get a little politcal, Cory Booker has really turned around Newark and brought life back into a city that looked to never survive again. I love Obama, but later on history might show that Booker was really the chosen one. This would be a great time to make a Star Wars Reference, like Booker is Luke and Obama is.....well lets hope Obama doesn't turn to be that guy.
Keith Munley
Super Reviewer
A well spun, if moralized and occasionally amateur, tale on the inequities of city-level politiking. The films subject matter is engaging, and is more than enough to carry the film, and this is lucky, because the actual skill behind the documentary is lackluster, however honest and diligent it may be.
Daniel Hetteix
Super Reviewer
Street Fight Quotes
There are no approved quotes yet for this movie.
Discussion Forum
Discuss Street Fight on our Movie forum!