Lady Chatterley
(2007)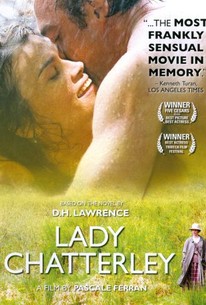 TOMATOMETER
AUDIENCE SCORE
Critic Consensus: Tasteful, poetic, yet sexually forthright, Lady Chatterley skillfully translates its source novel's high-art erotica onto the big screen.
Movie Info
D.H. Lawrence's once-scandalous tale of a married woman who finds herself through an affair with another man is brought to the screen in this adaptation directed by Pascale Ferran. Constance Chatterley (Marina Hands) is a lovely woman in her mid twenties who is married to Sir Clifford Chatterley (Hippolyte Girardot), a wealthy British nobleman many years her senior who is paralyzed from the waist down due to an injury sustained during World War I. While Constance loves her husband, she has grown weary of her life as a bird in a gilded cage, as well as her husband's lack of affection. One day, Constance steps out to take a walk and pauses to tell Parkin (Jean-Louis Coulloc'h), the estate's groundskeeper, that the cook would like him to shoot a pheasant for the evening's meal. Constance discovers Parkin is only half-dressed, and the physical strength of his body makes a strong impression on her. Parkin senses Constance's attraction to him, and he's equally taken by her beauty; in time the two throw caution to the wind and give in to their mutual passion. Constance blooms through her lovemaking with Parkin, and she finds his simple, rustic individualism is more to her taste than the life her husband has given her. But as Constance embraces her love for Parkin, others become aware of their relationship. Lady Chatterley was adapted from Lady Chatterley et l'Homme des Bois, the second of three versions Lawrence would publish of his best-known novel (it was published in English as John Thomas and Lady Jane). ~ Mark Deming, Rovi
News & Interviews for Lady Chatterley
Critic Reviews for Lady Chatterley
Audience Reviews for Lady Chatterley
½
"lady chatterley's lover" was once the most notorious novel by d h lawrence in british literature history and its title was once named after the genitals of two protagonists. now it's adapted by french the first time in cinematic history, and surprisingly how soft-core the french presents the story despite the bold audacity french cinema often impresses the audience on the subject matter of erotica. certainly there's a purpose to re-modify the name "lady chatterley's lover" into concise "lady chatterley": to utilize it as a feministic vehicle to assert the notion of woman's sexual awakening and her determination to be her own master. lawrence's novel's is about lady chatterley's LOVER, the proteriat macho man who stands for the vigor of life, the laborous blue-collar stud who is the object of desire for the upper-class dame who cannot get satisfactory laids from the men in the same social level as her. the book even manifests a voyeuristic scene of the lady drooling over the luscious junitor's nude during bath. the movie only reveals the lady bumps into the topless janitor wiping his own sweat. besides the casting choice of male protagonist is quite unusual to select a middle-aged uncle with thinning hair as the supposedly younger man of rags who elopes with an attractive mature woman of better upbringing. briefly, the scenario of "lady chatterley's lover" is about a sexually ungratified bourgeois dame whose husband's been handicapped by the war from the waist beneath, so this loaded woman hooks with the janitor who guardes the backyard forest. the woman abandons the bondage of status gap and moral constraint to unite with this wild man who considers sex as the sacred primitive ritual within the nature. so they gallope toward their instinctual drives of life which, of course, includes sex. the novel majorly announces lawrence's revolt against puritanical sexual suppression by middle class. so how about the movie? what's the difference? as the popular french wave of feminism which has prospered since the 80s have two tendencies: the difference of gender attributes has been a subject matter rejoiced by helen cixious and julia kristieva, as well as the supreme esteem toward the uterus. so these two elements shall be the central spirit of the movie which is only about lady chatterley herself, her discovery of sexual pleasure and her assertative choice of individuality. firstly, the movie is made more puritanical than the novel could ever be. from the numerous sex scenes, lady chatterley appears like an adult virgin who never witnesses a male frontal before. (but in the novel, lady chatterley has cheated her husband with his friend before she meets the janitor, but experienced enough to recognize he ain't considerate partner who cares about her part of pleasure) more than half of the love scenes are fully clothed with only the genitals out to put the activity into function until later she requests to see how his "stock" looks like by curiosity. basically the french lady chatterley is more like a timid woman with electra complex, who never knows what sex is like rather than the sensual woman in full bloom as the novel describes. secondly, the male protagonist isn't exactly that virile as lawrence's depiction, more like a paternal figure with an apparent soft center, who declares himself has some sensitive feminine sides which prefers to be enclosed by the breeze of mother nature (a surrender to the grandeur form of uterus) instead of the volcanic phallic man who is a semi-misogynist repulsing over lesbianism and cursing feminine frigidity. the french LOVER seems even more frigid than lady chatterley who drags the palm of his hand over her one breast to encourage him into having sex with her. could i call the sex scenes lame? i suppose they're just NORMAL and highly conventional even they still preserve some crucial sequences of the novel like scurrying naked in the pouring rain within the forest and embellishing your sex organs with flowers that are the naughtiest and funniest parts in the story. but the movie expresses them with more childlikeness instead of frivolous humor. thirdly, the cinematic ending is lady chatterley finances her janitor lover to purchase a ranch of his own. he refuses it gently but she persuades him into it anyway so she could occasionally sneak into his ranch to date him behind her husband like a kept male mistress despite he still views himself big man of machismo. (while he confides her his "feminine" side of character)...so it's like, hail to the all-mighty woman who manages to stay in the marriage with an impotent puppet and still harbor a secretive love interest for her own private amusement as she suggests to him that she needs his "talent to live" to feel alive. does it make sense to you? (it's an open ending anyway) on the contrary, the novel ends with the couple's glorious triumph to shed off the confinement of classes and revolutionalize over the banal system of hypocritical civilization to have a baby and build a home of their own. the comparisons i've made above just bare the feministic resort this movie applies. whether you would be entertained or not depends on your preference and acceptance over the issue of matrix celebration. but un-deniably, the movie shoots the nature in such a pleasant scale to saturate you into an idyllic land of oblivion and temporal naivete, for that merit i deem it highly watchable. as for lawrence's novel, in the course of reading it, i do detect the preachy undertone filled with a sort of male-centered angst which catapults this novel into the classic niche of literature. the book has a message which is political and judgemental; the movie's reluctant to convey any message but indulge in constant haltings over the smell of morning dew and the scent of floral blossoms. which is better, it various from individuals. the book is more spunky and provocative; the movie is more lyrical and freewheeling. "lady chatterley" is NOT a faithful cinematic adaption of a mighty literature classic, but i certainly wouldn't dismiss it as a lackluster flop. (ps) marlon brando came into my mind as the blueprint of d h lawrence's original stud who enlightens the path of un-bridled sexualities for this desperate dame who just awaits him to conquer. don't you find brando fit, considering his perfomances in "last tango in paris"?
Veronique Kwak
Super Reviewer
½
Beautiful, believable and nothing short of a wonderful sexy surprise made in France and this runs for almost 3 hours. It's getting more interested than I last watched 1981's Lady Chatterley's Lover. All the support acting is measured and helps provide a solid counterbalance for the central couple who gradually learn to let go their inhibitions and slide blissfully from lust to love. It is all very gradually done from Chatterley's first glimpse of the gamekeeper washing himself outside his hut and her consequent, and at the time seemingly over the top, need to sit to gather her senses, literally; to the powerful scene where she asks him to turn and display his erect penis and the wondrous scenes of the naked couple cavorting ecstatically in the pouring rain. All in all a fine mix of the wonders of nature, the manliness of the hand made, the power of sex and the need for love. Marina Hands is gorgeous as the title role and radiates happiness in love. For me she is really English.
Dean McKenna
Super Reviewer
½
Wonderfully earthy and naturalistic take on the tale of forbidden love. Marina Hands is breathtaking and the romance that blossoms is believable and touching. It shows a time when sexual discovery was innocent, pure and free from the hard sell media saturation we suffer today.
Gordon Anderson
Super Reviewer
Lady Chatterley Quotes
There are no approved quotes yet for this movie.