Black Moon
(1975)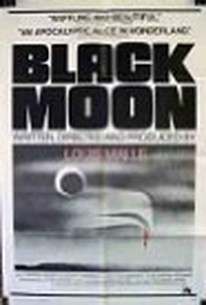 Movie Info
In Louis Malle's apocalyptic fantasy Black Moon, Lily (Cathryn Harrison, granddaughter of Rex) drives down a lonesome road, and soon finds herself in a alternate world full of non sequiturs and bizarre characters. At times, this looks like a David Lynch film, what with an old woman conversing with a rat, a pack of naked children chasing a pig, a talking unicorn, a strange set of possibly incestuous siblings (one of whom is "underground" film star Joe Dallesandro), and several other warped set pieces. Malle reportedly culled inspiration for the narrative of this film from his own dreams. ~ Hal Erickson, Rovi
Critic Reviews for Black Moon
Audience Reviews for Black Moon
Black Moon is the theatrical realization of an apocalyptic dream conceived by Louis Malle featuring the most bizarre: a war, a senile woman, a bevy of naked children, and a unicorn. A surreal escape. Eccentric.
Jan Marc Macababayao
Super Reviewer
½
Louis Malle's most abstract and interpretive work is one that while not understood at the time, wait until you see the film, has garnered attention more recently. Going in to this film you have to turn off that notion of following a direct plot line and logic because the film is most simply an experience. Malle says, as noted in the booklet accompanying the Criterion edition " Each time something appeared that looked like a plotline, I would cross it out." This direction means that you are watching not so much a normal paced film but a series of events that the mind can interpret in a variety of ways, quite diversely I may add as the film is filled to the brim with symbolism. All this being said the film is wonderfully shot and handled with dedication and respect and is no doubt a Malle work. The supplementary features which are unfortunately quite short for a Criterion especially, add great insight into the film. Malle says that it is absurd to ask a director the meaning behind the piece and that cinema is the worst when it comes to the scrutiny people force upon the creators. He basically leaves it to the viewer to decide what it means for them, and that is perfectly stated and true. I can't recommend this for most, but if you are like me and appreciate the obscure and abstract it is one worth watching!
Chris Browning
Super Reviewer
½
A young woman flees a shooting war between the sexes and holes up at a farmhouse with a bedridden old woman, a brother and sister both named "Lily," a bunch of naked children, and a unicorn. Pure surrealism is hard to pull off at feature length (even Bunuel and Lynch rarely attempted it). Louis Malle proves not to be up to the challenge, either, though there are some good individual moments (who wouldn't love the unicorn)?
Black Moon Quotes
There are no approved quotes yet for this movie.