Whiteout
(2009)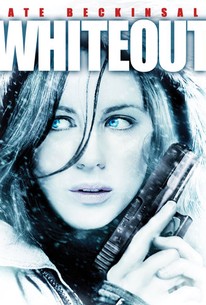 TOMATOMETER
AUDIENCE SCORE
Critic Consensus: Kate Beckinsale is as lovely as ever, and does her best with the material, but moribund pacing and an uninspired plot leave Whiteout in the cold.
Movie Info
A U.S. marshall tracking a vicious murderer through the Antarctic must locate the killer before the sun sets for six months, or risk being trapped in the dark with the madman for months on end in director Dominic Sena's adaptation of the graphic novel series by Greg Rucka. U.S. marshall Carrie Stetko (Kate Beckinsale) has been stationed at Antarctica's South Pole research base for two years, and now after turning in her resignation she's looking forward to finally going home. The last plane out leaves in just three days, and just after that Antarctica will not see the sun again for another 24 weeks. Then, just 72 hours before she is set to escape the coming darkness, a body is discovered in the ice -- prompting the first murder investigation ever to take place on the desolate Antarctic Circle continent. Little does Carrie realize that she's suddenly been thrust into a mystery over 60 years in the making, and that the killer is ready to strike again in order to protect a grim secret. Now, as the death toll starts to rise, loyalties shift, and a massive series of whiteouts blow bitter winds across the frozen landscape, the U.S. marshall who wanted nothing more than to escape the cold must work around the clock to catch a killer before the blinding white snow gives way to the deadly darkness of winter.
News & Interviews for Whiteout
Critic Reviews for Whiteout
Audience Reviews for Whiteout
An ok horror thriller with some cool Arctic shots but nothing new and very predictable.
Sophie Burgess
Super Reviewer
½
Been waiting to see this for awhile now and thinking the story and idea sounded great.Well what can i say it really never got going and the lack of a really good mystery so lets it down.Even the performances are abit wooded. You so expect more from starss like beckinsale and sterritt who are both favs of mine.And to top off the whole movie is the so bad twist at the end and climax just seem limp. A Very Disappointed Movie maybe not one to avoided but maybe one to have a few beers before viewing.
Brian De Guelle
Super Reviewer
½
When a US Marshall operating out of a base in Antarctica discovers a dead body in the middle of nowhere, she must uncover the culprit before a huge snowstorm cuts them off from the outside world. Whiteout begins with a gratuitous action scene followed by a computer generated plane crash. Then our first glance of the snowbound lawperson (hot, of course) is of her stripping off (well, what else would a person do if they were in Antarctica...?) Cue the mysterious body followed by clumsy flashbacks of an event that now defines her entire character and the appearance of a square-jawed partner (hot, of course) and wise-cracking black sidekick. Enter the storm to create an excuse for a race against time and some running around with guns/ice axes. Voila, the identity of the culprit, who is as ever the one we "least suspect", and epilogue showing how she has overcome her personal demons. The end. Once again the Hollywood conveyor belt churns out a production line script and we are supposed to give a crap just because the hero is pretty. The highlight of the film (by a mile) is seeing Kate bend over in her underwear, but even that happens in the first 15 minutes. The rest of the film contains a lot of pretty snowbound locations that add what superficially seems like a different flavour, but what we really have here is yet another efficient but dumb American thriller that's completely interchangeable with all the others. Difficult to hate, but even more difficult to care about.
Whiteout Quotes
| | |
| --- | --- |
| Dr. John Fury: | I never meant for anyone to get hurt, but Haden got greedy. |
| | |
| --- | --- |
| Carrie Stetko: | How bad is it? |
| Delfy: | Bad enough that you don't want to see. |
| | |
| --- | --- |
| Carrie Stetko: | "This ice has been worked" (Walks off and falls into a hole) |
| Carrie Stetko: | This ice has been worked. (Walks off and falls into a hole) |
| Delfy: | "Stetko!!!" |
| Delfy: | Stetko!!! |
Discussion Forum
Discuss Whiteout on our Movie forum!