King Corn
(2007)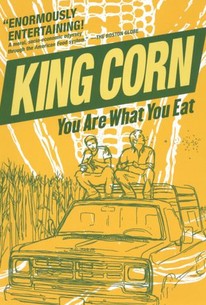 Movie Info
Ian Cheney and Curt Ellis, best friends from college on the east coast, move to the heartland to learn where their food comes from. With the help of friendly neighbors, genetically modified seeds, and powerful herbicides, they plant and grow a bumper crop of America's most-productive, most-subsidized grain on one acre of Iowa soil. But when they try to follow their pile of corn into the food system, what they find raises troubling questions about how we eat--and how we farm.
Critic Reviews for King Corn
Audience Reviews for King Corn
An occasionally interesting look at the food industry concerning two guys from Boston journeying to Iowa to plant a crop of corn. What's most impressive about the film is it's ability to derive answers without going Michael Moore finger-pointing style. It does drag from time to time and it lacks a firm, solid resolution, but certainly not a bad documentary at all, but definitely one that could've been more interesting if it had tried to be.
Dan Schultz
Super Reviewer
½
Any documentary that has stop and go animation with fischer price and corn kernals is a good one in my book. I guess you hear 'high fructose corn syrup' in everything you eat, but I never really thought about what it was. You eat pretty much nothing but corn if you eat what most people do. Makes you want to eat hippie food instead, if only it cost less. Yikes.
Curtis Lilly
Super Reviewer
The subject is interesting but the execution is lacking.
James Alvarez
Super Reviewer
King Corn Quotes
There are no approved quotes yet for this movie.