Black Water
(2008)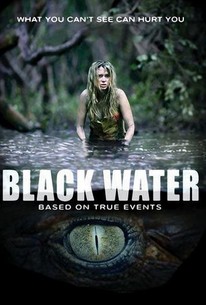 Movie Info
Three tourists navigating the treacherous swamps of Northern Australia are forced to fight for their lives after a hungry crocodile capsizes their boat and stalks them from the murky depths in this natural horror thriller from directors David Nerlich and Andrew Traucki. It was during a relaxing voyage into the outback that Grace, her boyfriend Adam, and her younger sister Lee decided to venture into an area of the outback rarely seen by tourists. Enlisting the aid of local tour guide Jim, the three thrill seeking travelers eagerly hopped into their boat and set out on what was supposed to be a typical river tour. Later, the leisurely tour becomes a life or death struggle against a deadly predator when the boat capsizes and Jim vanishes into the water without a trace. Stranded in a mangrove swamp without a tour and realizing that a crocodile is circling somewhere beneath the eerily placid surface, Adam pulls Grace up into a tree as Lee clings desperately to the overturned boat. Later, after Lee joins her friends in the trees and Grace realizes that they are completely surrounded by water, the trio quickly realizes that their harrowing experience has only just begun.
Critic Reviews for Black Water
Audience Reviews for Black Water
½
Movie that started out promisingly but edged into mediocre towards the end. Although the effort have to be appreciated for having made it with out much of a budget and CGI.
Aussie survival-horror about a bad-ass Crocodile who has a trio of holidaymakers stuck up a tree in the middle of a mangrove swamp fighting for their lives. Apparently based on true events and it's been filmed in a naturalistic way to enhance its believability. However, the Croc did display some deliberate sadistic and sinister behaviour that was probably exaggerated for the film. It's a premise we've seen before but it's a real nerve-shredder and very effectively made - it's low budget works in its favour.
Wolf Creek with a crocodile. Interesting setting and believable character motivations help make up for some moments of stupidity. Not much violence, more of a suspense film.
Black Water Quotes
There are no approved quotes yet for this movie.