Ben X
(2007)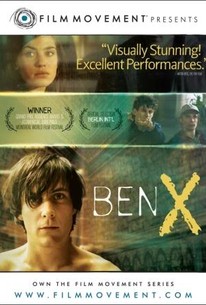 TOMATOMETER
AUDIENCE SCORE
Critic Consensus: Thoughtful and provocative Dutch film concerned with autism, online gaming and bullying, though loses steam in the final act.
Movie Info
Mildly autistic, Ben keeps to himself. He spends most of his time immersed in the world of computer games. Picked on mercilessly at school, Ben decides to finally plot his revenge.
Audience Reviews for Ben X
This was a very cool movie, with a very unexpected ending...which always is a plus for me. I found it very interesting, and unusual..but in a good way.
Cynthia S.
Super Reviewer
½
To be entirely honest, I was ready to give this film one star, because the tale of the Asperger syndrom kid that gets bullied so much he is considering suicide is really getting on your nerves at times. It's giving you the protagonist's thoughts somewhat unfiltered, and maybe they are accurate as far as that condition goes, but it's a bit much at times. Timmerman's performance isn't always very convincing either. The online gaming fantasy world his character is escaping to is also incorporated into his thoughts and the film, which is rather well done. Bits of interviews with some of the characters commenting on a yet unknown catastrophe interrupt the action, but at least give you a bit of tension about what said tragedy is. Sadly, the film is extremely undecided on what he wants to comment. The syndrome? The bullying, which is taking so much time of the film you sometimes feel like forwarding your tape because it's painful to watch? The suicidal thoughts? The hope in shape of his internet friend? I felt like stopping the film a few times, because it was just too much, and aimlessly so. What saved the film after all was the final twist, or two actually, and the fact that Sigur Ros had a song in it. Anyone intrigued by the basic premise can certainly have a look, but it's not the easiest movie to watch. At least you don't feel cheated of your time in the end.
½
A well constructed film about a boy with autism that escapes into a popular RPG to escape harsh reality. The film's messages are obvious, but mostly handled with care. It does go a bit too dark and then a bit too light for my tastes. The first hour had me angered and intrigued, but the last 30 minutes are a bit too schmaltzy and light. It doesn't completely gloss over the difficult issues, but the film soon corners itself in a place where no ending would have been satisfactory. A distant but understandable performance from Timmermans makes this an easy watch, and the jumps between life and the computer world are simple and controlled.
Luke Baldock
Super Reviewer
Ben X Quotes
There are no approved quotes yet for this movie.