Night and Day (Bam gua nat)
(2009)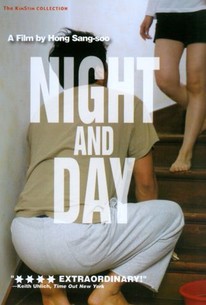 Night and Day (Bam gua nat) Photos
Movie Info
Anthology is thrilled to present the New York Theatrical Premiere Run of NIGHT AND DAY by gifted Korean auteur Hong Sang-soo, who has established himself as world cinema's poet of male narcissism, desire, and neurosis. For more than a decade now he has been quietly but consistently turning out a series of films that are somehow both self-effacing and bold, behavioral and formally experimental, including masterpieces such as VIRGIN STRIPPED BARE BY HER BACHELORS, TURNING GATE, and TALE OF CINEMA. His most recent film to hit North American shores (the feverishly prolific Hong has already lapped us, with an even newer film - LIKE YOU KNOW IT ALL - premiering at Cannes last May) finds him experimenting with a change of scene - set in Paris rather than Korea, NIGHT AND DAY adds the element of cultural confusion to his usual thematic arsenal. After getting busted for smoking pot with some students, 40-year-old artist Seong-nam impulsively flees to Paris, leaving his wife behind, and finds himself living in a kind of limbo. Staying in a run-down hotel inhabited mostly by fellow Korean ex-pats, Seong-nam wanders aimlessly around the city, becoming ensnared by temptation in the form of both an ex-flame, and a couple of young art students. Leisurely, episodic, sharp, and deeply funny, NIGHT AND DAY finds Hong working at the height of his powers. -- (C) Anthology
News & Interviews for Night and Day (Bam gua nat)
Critic Reviews for Night and Day (Bam gua nat)
Audience Reviews for Night and Day (Bam gua nat)
On the run from the law in his native South Korea, Seong-nam(Kim Yeong-ho), an art student, ends up in Paris where he lives in a guesthouse room with ten other people. Seeking a little elbow room, he hangs out in the lounge where he reads the only available book, the Bible. He also gets out from time to time, reconnecting with Min-seon(Kim Yoo-jin), an ex-girlfriend. Like its sort of protagonist who is barely intriguing enough to be of interest, "Night and Day" is a shambling and random movie, along with being very episodic and improvised. But even from thousands of miles away, the movie does have some incisive things to say about South Korea, namely how strict the laws there are concerning smoking marijuana.(Like you need a reason to visit Paris, anyway.) And the North Korean character, Keong-soo(Lee Sun-kyun), is a nice touch.
Night and Day (Bam gua nat) Quotes
There are no approved quotes yet for this movie.