Rab Ne Bana Di Jodi (A Couple Made by God) (A Match Made in Heaven)
(2008)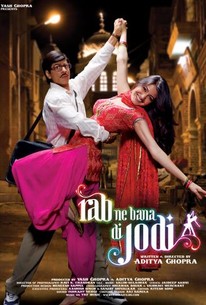 Rab Ne Bana Di Jodi (A Couple Made by God) (A Match Made in Heaven) Photos
Movie Info
Writer/director Aditya Chopra proves that love knows no distinction in this colorful romance concerning an average, kindhearted Punjab Power employee who enters into a glorious romance with a vivacious and beautiful young artist. To look at Surinder Sahni (Shahrukh Khan), one might presume that the honest, hard-working man has led a mundane, loveless life. Perhaps that was so, until recently. When Surinder meets the fun loving Taani (Anushka Sharma), the sparks begin to fly and the two polar opposites find themselves drawn together by fate. But while the road to romance isn't always easy, for every teardrop shed there's an infinite flash of overwhelming bliss.
Critic Reviews for Rab Ne Bana Di Jodi (A Couple Made by God) (A Match Made in Heaven)
Audience Reviews for Rab Ne Bana Di Jodi (A Couple Made by God) (A Match Made in Heaven)
Truly sweet, and very heart-warming! Once again, SRK has added another beloved film to his collection of highly favored Bollywood movies. Surinder Sahni is a man whose quiet, reserved, and truly polite. He instantly falls in love with Taani. Taani is the only daughter of his respected mentor/former teacher. An unexpected accident occurs during Taani's wedding celebration and changes everything, Suri and Taani are then promptly asked to marry. Respecting the wishes of Taani's father, the two agree to get married. After the death of her father, the two travel to live together in Suri's home. Suri hopes that one day Taani will come to love him as much as he loves her. When a dancing competition attracts Taani's interest, she is inspired to participate. This leaves an opening for Suri to romantically pursue Taani (with the help of his best friend Bobby). Suri creates an alter ego, and becomes Taani's dancing partner in the competition. Tons of laughter! Beautiful music. Fantastic dance appearances by Kajol, Bipasha Basu, Lara Dutta, Preity Zinta, and Rani Mukherjee. Mesmerizing song: 'Tujh Mein Rab Dikhta Hai'- each sung by Shreya Ghoshal and Roop Kumar Rathod. Shahrukh Khan, Anushka Sharma, and Vinay Pathak stars. Definitely worth seeing!
Rab Ne Bana Di Jodi (A Couple Made by God) (A Match Made in Heaven) Quotes
There are no approved quotes yet for this movie.