Endgame
(2009)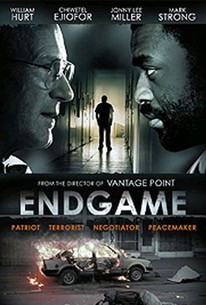 Movie Info
The African National Congress (ANC) wages an armed struggle against apartheid; President P.W. Botha clings to the last threads of power; the country is on the brink of bloody insurrection. In a gripping thriller based on real-life events, Endgame drops us into this brutal conflict's control centers: Nelson Mandela's prison, Botha's chambers, ANC headquarters, and, to our surprise, the rented car of a British bureaucrat. It turns out that Consolidated Gold, a British mining concern, convinced that peaceful resolution in South Africa serves their interests, has initiated covert, unofficial talks between opposing sides.
News & Interviews for Endgame
Critic Reviews for Endgame
Audience Reviews for Endgame
½
Endgame has promise story-wise, but it ends up taking a turn for the worse through its very confusing storylines and characters. You end up just wanting to turn it off for your brain's sake instead of continuing to watch it. Nevertheless, William Hurt and Chiwetel Ejiofor did a pretty damn good acting job.
Matthew Henegan
½
Starchy telling of the behind-the-scenes meetings that contributed to the end of apartheid in South Africa. A car chase, a car bombing and some flashy camera work are offered in attempt to liven up the avalanche of talking heads but to nooo avail.
Kevin M. Williams
Super Reviewer
In "Endgame," Consolidated Goldmines representative Michael Young(Jonny Lee Miller) fails miserably at his first attempt at making contact with the ANC in a South African township in 1985. A year and a half later, he has decidedly more success in London with Thabo Mbeki(Chiwetel Ejiofor) and gets him interested in peace talks. However, finding an Afrikaan representative proves to be even harder, as their livelihoods depend on Apartheid. But Professor Will Esterhuyse(William Hurt) will give it a shot. And that is even as he is approached by Dr. Neil Barnard(Mark Strong) of the National Intelligence Services to report back to him. At the same time, Dr. Barnard is talking with Nelson Mandela(Clarke Peters). "Endgame" is well-acted by an excellent cast. The film moves along like a first class political thriller, even if some of the dialogue is clunky at times, while detailing a little known, but important, piece of history. It does a very good job of illustrating the point in a conflict when guns must be put aside, after so much damage has been inflicted on both sides, and the talking to begin. But that cannot really start until the fear and hatred that have been building over generations have been overcome. In this case, the blacks hate their oppressors while the minority Afrikaans fear for their future. What is scary for me is the meetings are arranged by Consolidated Goldmines, not out of the kindness of their hearts, but for business' sake as peace guarantees continued profit. Later, corporations will have influenced post-Apartheid South Africa in a negative direction, as detailed by Naomi Klein in her book, "The Shock Doctrine."
Endgame Quotes
There are no approved quotes yet for this movie.
Discussion Forum
Discuss Endgame on our Movie forum!