Lake Mungo
(2009)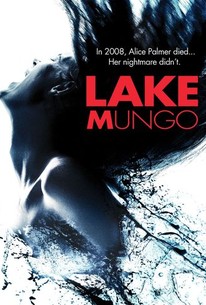 Movie Info
Shortly after the mysterious death of sixteen year old Alice Palmer, her family summons a psychic and a parapsychologist into their home and discovers that the secretive teen had been leading a double life. Alice was swimming in a local dam when she drowned tragically. Later, after her body is recovered and the coroner issues a verdict of accidental death, Alice is laid to rest and her family returns home to grieve in peace. The Palmer's mournful silence is short-lived, however, when a series of strange occurrences in and around their home leaves them convinced that they are experiencing something supernatural. Seeking the advice of a psychic and a parapsychologist, who reveals that Alice had been keeping some profound secrets from her friends and family, the Palmers travel to Lake Mungo and begin unraveling the mystery of the troubled adolescent's double life. A faux-documentary shot in the style of The Blair Witch Project and Diary of the Dead, Lake Mungo proves that the mysteries of the living don't lie silent with the deceased.
News & Interviews for Lake Mungo
Critic Reviews for Lake Mungo
Audience Reviews for Lake Mungo
½
Very slow, but I guess that it was intended to be that way. Mildly interesting...
Cynthia S.
Super Reviewer
A mockumentary with actual brains and with a story not build around the gimmick of the "shaky realistic camera" or whatever you want to call it. There are some flaws, the story lacks more juice and it wanders a bit too much on several places. It's a drama with a supernatural background, it bothers to have more compelling characters than just walking cliches. Not a classic but certainly worth a check.
Tsubaki Sanjuro
Super Reviewer
½
Lake Mungo is an excellent documentary-style ghost story from Australia. It was quite different from what I expected. This isn't Paranormal Activity, despite the vaguely similar premise. It's primarily about the story of a family who has lost a loved one and can't let her go. This is much closer to a paranormal triller/supernatural drama than a horror movie. Recalled mainly through interviews, camera, and cell phone footage, Lake Mungo is about an Australian family named the Palmer's. Teenage daughter Alice is lost in a drowning accident while on a family outing in 2005. After her death, they still sense her presence in their home, and shadowy images of her begin to show up in photos. Revealing any more of the story than that would be a disservice. Kudos to the absolutely excellent acting from the relatively (at least, for this American) unknown cast. This is one of the more "real" feeling fiction documentaries that I've ever seen. This a lot of the reason Lake Mungo was so immersive to me. All the characters seemed like completely genuine people. This almost could have been a documentary that I stumbled upon while flipping through the channels. This is probably one of the creepiest movies I've seen since The Others. Very unsettling. Not a lot of big chills and shocks, but it slowly builds an unsettling sense of atmosphere and dread of the unnatural and unknown, along with an unexpected but welcome mystery element. The plot goes a lot of places that might not be expected. At it's heart, Lake Mungo is also a quite sad movie. It was easy for me to believe that these people had lost a beloved daughter, sister, and friend, long before her time. If you're looking for a pure, jump out of your seat popcorn horror flick, this isn't it. I happen to think it's something more interesting than that, though. A movie that sets out to do something different, and does it very well. I loved it. I haven't been this pleasantly surprised by a movie since Triangle.
Lake Mungo Quotes
There are no approved quotes yet for this movie.