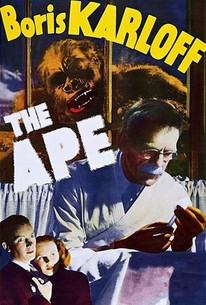 The Ape
1940, Horror, 1h 2m
8 Reviews
500+ Ratings
Rate And Review
Movie Info
Dr. Bernard Adrian (Boris Karloff) is researching a way to help a wheelchair-bound patient, Frances (Maris Wrixon), use her legs again. The only way he can achieve this is by procuring spinal fluid from a human. When an ape escapes from a circus, Dr. Adrian kills it in a confrontation and successfully uses its spinal fluid on Frances -- but he needs more. Using the ape's body as a suit, he kills townspeople in a crazed attempt to complete his plan.
Audience Reviews for The Ape
Boris Karloff is a kindhearted but unethical doctor trying to cure paralysis, and there's also an escaped circus ape running around killing people, and the two plotlines collide in a stupid way. Karloff can't save this ridiculous yet dull film, as the part makes him so likable he doesn't get the chance to do what he does best.

Karloff is his usual standout but despite certain interesting touches the film is quite bad. It's interesting how much it mirrors the far, far superior "The Body Snatcher", however, which features my favorite of Mr. Pratt's performances.

I really dislike monkeys as antagonists in movies, its bizarre I know, and I can't exactly tell you why I dislike bad monkeys. I just can't ever get into that storyline. Well I couldn't until now. The Ape from 1940 happens to be the ONE ape movie that I can really enjoy. This is in no way a good movie I am just a fan of the story here. It was really good. Bela Lugosi stars as Dr. Bernard Adrian; a mad scientist who has vowed to save the life of a young woman struggling against polio. Meanwhile there is an escaped gorilla terrorizing the country side. Long story short the doctor ends up in a gorilla suit. Sorry for spoiling that for you. Just take it. Bela's acting is nothing short of amazing here and he really carries the entire film. It looks like it was really low budget and the whole idea behind the movie is ridiculous to the point that it is amazing. The movie has very little in the way of violence or anything very scary; most, if anything happens off camera. Also the camera work is pretty raw, but that adds to the feel of the film. If you are a film buff like me and you like experiencing really rare pieces of film then I fully recommend this classic to you. This movie would make a great addition to any Boris Karloff collection. The movie is also interesting to me because it is the first horror movie I have ever seen from the 1940's. This feels like progress. I am going to give The Ape a 6 out of 10. Check it out. These cold eyes have watched a thousand men die screaming! S!D

In small town America scientists and experiments are too be feared. Did Curt Siodmak actually write anything good? Despite his being such a well known horror movie writer I have yet to see it. The dialog and visual composition are completely mundane and uninspired. The story contains a random vile lawyer character whose involvement is left incomplete. Perhaps some footage is missing of him getting his dues in 1930's movie code fashion. The cheap digital transfer I watched did have tons of missing fragments of the film and audio track. A circus passes through town and a gorilla (man in a suit of course) escapes. The ape gets stabbed a couple times and shot. Is it dead or alive? Paralyzed Frances (Wrixon) and mechanic Danny (O'Donnell) are young sweethearts. Dr. Adrian (Karloff) cares for Frances and wants to allow her to walk again. A sheriff leads a posse of bumpkins to track the gorilla and hound the suspicious doctor. The twist ending is preposterous.
See Details