High School
(2012)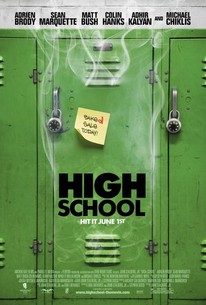 Movie Info
The day after soon-to-be valedictorian Henry Burke (Matt Bush) takes a hit of the chronic for the first time, his school principal (Michael Chiklis) institutes a zero tolerance drug policy and administers a mandatory drug test for all students. Henry has two options: fail and lose his college scholarship, or team up with his stoner friend Breaux (Sean Marquette) to beat the system. They steal a high powered ganja from law student-turned-drug-dealer Psycho Ed (Adrien Brody) and spike the school's bake sale brownies, getting the whole school-faculty included-completely stoned out of their minds. But with the student body getting higher and higher with every brownie, and a pissed-off Psycho Ed on their tails for stealing his stash, they must find a way to keep their half-baked plan from going up in smoke. -- (C) Official Site
People Who Like this movie also like
News & Interviews for High School
Critic Reviews for High School
Audience Reviews for High School
½
While making his first visit to high school detention, Henry(Matt Bush) reacquaints himself with Travis(Sean Marquette), a former childhood friend. After which, they share a little marijuana. And then Henry finds out it is the worst possible time to try illegal drugs for the first time when after a debacle at the spelling bee, Headmaster Gordon(Micharel Chiklis) announces drug testing for all students, which could not only ruin Henry's run at valedictorian, but also more importantly his scholarship to MIT. So, Henry and Travis hatch a scheme to get everybody at school stoned and thereby ruining the drug test results, followed by a visit to Psycho Ed(Adrien Brody) for supplies. First off, "High School" has its heart in the right place, even if its humor is not. In general, it argues for not putting students under huge pressure by holding them to perfection, which is worse when applied to athletes who face the possibility of a 15,000 word article in Sports Illustrated if they screw up. Specifically, the movie smartly takes aim at the war on drugs and any kind of drug testing. So, it is sad to note in the opening scene, the movie establishes exactly how crude its sense of humor is, doing little to differentiate itself from your garden vulgarity of teenage comedies, replete with contrived nudity, even with a neat turn from Adrien Brody. And while stoner logic might be fine and good in some places, it is real life logic that the movie has trouble with, as there is no way two guys could bake 1,000 brownies in a single night. In any case, it would have been more fun to see them struggle to bring their plan to fruition than its aftermath.
High School isn't funny considering it's a film about stoners. You can't smoke enough bud for this film to be funny. There are only two reasons to watch this film, Adrian Brody and Michael Chiklis. They are the only two who give out performances worth watching. They both play over the top characters. They are the only reason I stuck with the film until the end. See it if you want. I wish I would have puff - puff - passed on this bad excuse for a stoner film.
♥˩ƳИИ ƜѲѲƉƧ♥
Super Reviewer
½
"Future going up in smoke? Make sure it's some primo shit." A high school valedictorian who gets baked with the local stoner finds himself the subject of a drug test. The situation causes him to concoct an ambitious plan to get his entire graduating class to face the same fate, and fail.
REVIEW
It's not just the film's stoner antics, but the wonderfully natural dynamic between protagonists Henry and Travis (Matt Bush and Sean Marquette) that make this film such a delight! At it's heart, that's what "High School" seems to be about: two very different guys finding friends in each other in the midst of a sticky situation. Many equally memorable moments are offered thanks to the expert talents of Michael Chiklis and Adrien Brody. Chiklis (as pompous Dr. Leslie Gordon) exudes a deliciously-villainous disdain throughout the film. His inflated sense of righteousness, and Shakespearean presence, make him a truly love-to-hate personality. As Psycho Ed, Adrien Brody is just so damn fun to watch! One moment his crazed behavior had me in a laughing fit; next, his insane anger had me scared for Henry and Travis' safety. Dr. Gordon and Ed are uniquely accomplished performances that add so much to High School's entertainment value.
Lorenzo von Matterhorn
Super Reviewer