The Big Sleep
(1978)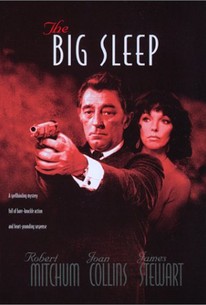 AUDIENCE SCORE
Critic Consensus: No consensus yet.
Movie Info
Based on Raymond Chandler's novel, this remake of Howard Hawks' 1946 classic film noir detective story (which starred Humphrey Bogart) inexplicably moves the story's setting from Los Angeles to London. In this 1978 version, directed by Briton Michael Winner, Robert Mitchum plays Philip Marlowe. In the story, Marlowe flies to London, hired by a wealthy but disabled retired military man, General Sternwood (James Stewart), to find out who is blackmailing his daughters, and why. In unraveling this complex mystery, he witnesses a murder, constantly stumbles across corpses, runs afoul of the police and underworld gangs, and slowly begins to appreciate the extent of the decadence of his client's children. This all-star production was coldly received by the critics, who could not fail to compare it to the (much better) Hawks original.
Rating:
R
Genre:
, ,
Directed By:
Written By:
On DVD:
Runtime:
Studio:
United Artists
Critic Reviews for The Big Sleep
All Critics (3) | Fresh (3) | Rotten (0)

Ozus' World Movie Reviews
The problem with the film, more than anything, is getting beyond the idea of it not being Bogie and Bacall up there on the screen.

Mountain Xpress (Asheville, NC)
Robert Mitchum's wry and worldly depiction of Marlowe, an intrepid detective, carries the movie.

Spirituality and Practice
Audience Reviews for The Big Sleep
½
It's interesting to compare this version with what will eventually be called Bogart/Bacall. Not only is there a change in acting styles but also in the view points the movies express on practically everything. I prefer the remake to the original, that is for certain. The original was produced during a period in American history where there was optimism in modernity and that the government could solve all of the nation's problems whereas the remake was produced during a period of when the nation was searching for a recovery from the nation's ills, but still greatly pessimistic. Both attitudes were undoubtably cultivated by their respective medias and often to cross purposes. The reason for bringing up what seems like something completely extraneous is that those overwhelming societal attitudes and the need for commercial films to be a part of them, is what colors both films. Unfortunately for the original, the societal attitudes prevailing at the time of its making are not apropos to the film's storyline. Bogart and Bacall, always optimistic, and delivering their lines with the great relish that can be the product only of a fawning, patronizing industry that so over indulged it's stars, like geese being prepared for fois gras production, that all of their actions seem either ridiculous or villainous in light of the events of the story surrounding them. And the story does surround them, or they the story. I don't think that Michael Winner, the brilliant director that he is, could have gone back in time to rectify the faults in the mess Bogart/Bacall created. What Winner had to work with is an actor who successfully made the transition from the histrionic acting style prevalent in the '30's and '40's to the more realism based style adhered to today. I couldn't sanctify Mitchum though, at times he seems too laconic, and maybe someone like Jack Nicholson would have been a better choice what with his very good job in Polanski's Chinatown. Winner is the perfect choice for director of this depressing story from pot boiler writer Raymond Chandler. Chandler suffered the same faults as Bogart/Bacall; being unable to see what he was doing and thinking only of where what he was doing would put him. So what Winner has done is to take his own '70's recessional attitude and bring out the great negativity in a story that was written by Chandler as the kind of novel you'd buy at a bus stop, read on the bus, chuck in the garbage when you got to your destination and walk away feeling good about the whole experience and not remembering anything else about it. Besides Mitchum, the rest of the cast is pretty good too. I'm sad to write that Jimmy Stewart didn't make it, neither the transition to Hollywood's new style of acting nor does his character, sort of. In his scenes with Stewart, Mitchum's reverence for the aging Stewart shows through a bit, and maybe Mitchum should have let his guard down more during some of the more shocking scenes. I guess it depends on your priorities, time, money, or what you hold dear, in deciding which version to watch.
Naomi Gonzalostein
½
A well done update of the story, reset for no obvious reason in London. Mitchum is very good as Marlowe. The complex story is slightly less murky than in the earlier version starring Bogart.
David Duncan
½
Thoroughly underwhelming
Ken Stachnik
Super Reviewer
The Big Sleep Quotes
There are no approved quotes yet for this movie.