The Black Pirate
(1926)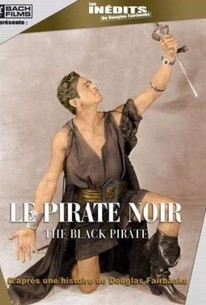 Movie Info
Sworn to avenge his father's murder, a young aristocrat takes on a new role as an infamous pirate, cheerfully pillaging the seven seas until he achieves proper justice. This rapid-paced, silent Douglas Fairbanks swashbuckler, rampant with stuntwork and including early Technicolor scenes, is topnotch fun.
Critic Reviews for The Black Pirate
Audience Reviews for The Black Pirate
This 1926 Douglas Fairbanks adventure vehicle was filmed with an early technicolor process. It is available on DVD with the restored color. Seeing the costumes and pirate ship sets in even this incomplete form of color is worth it. It is a thrill to see the way this gang of pirates is portrayed in the mid-20's. Some of the stunts would be repeated many times in later pirate adventures, but this is no Disney portrayal. Fairbanks vows revenge against the band of pirates, who captured and blew up the ship on which he was traveling. They ultimately caused the death of his father. Fairbanks is a nobleman, who takes on the alias of The Black Pirate to gradually win the trust of and outsmart the scalawags. He defeats the previous Captain (Randolf) in a duel. He wins the admiration of MacTavish (Donald Crisp) and a peg-leg pirate (Wallace) as well as most of the crew by showing them some new "tricks of the trade." He never quite wins over the suspicious Lieutenant (Sam De Grasse) or the anarchic powder man (Stevens). The Black Pirate helps to capture a merchant ship. A beautiful woman (Billie Dove) is found aboard and he tells the men she is a princess. He secretly does everything in his power to protect her, the merchant ship, and its other passengers from the lawlessness of the pirates. Tensions build as the hours pass on the sundial for The Black Pirate's plan. Will the Pirate Lieutenant let the new arrival take power so easily? No. He must save the damsel at all costs and they fall in love. Lots of athletic sword play and climbing all over the ships in Fairbanks' bag of tricks. A nice behind the scenes set of clips is included on the DVD that show how some of the stunts were achieved.
Byron Brubaker
Super Reviewer
½
one of the first films made entirely in the two-strip technicolor process, fairbanks is always tremendous fun, and it's in public domain so u can watch it here http://www.youtube.com/user/openflix
Stella Dallas
Super Reviewer
½
A fantastic pirate movie! I really enjoyed it, it's got adventure, action, excitement, romance, and even technicolor! Fairbanks was an amazing acrobat, and a good choice for a pirate movie. If you like pirate movies, I highly recommend this classic film.
The Black Pirate Quotes
There are no approved quotes yet for this movie.