Cat People
(1942)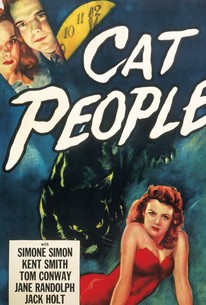 TOMATOMETER
AUDIENCE SCORE
Critic Consensus: Influential noir director Jacques Tourneau infused this sexy, moody horror film with some sly commentary about the psychology and the taboos of desire.
Movie Info
Handed the exploitive title Cat People, RKO producer Val Lewton opted for a thinking man's thriller--a psychological mood piece, more reliant on suspense and suggestion than overt "scare stuff". Simone Simon plays an enigmatic young fashion artist who is curiously affected by the panther cage at the central park zoo. She falls in love with handsome Kent Smith, but loses him to Jane Randolph. After a chance confrontation with a bizarre stranger at a restaurant, Simon becomes obsessed with the notion that she's a Cat Woman--a member of an ancient Serbian tribe that metamorphoses into panthers whenever aroused by jealousy. She begins stalking her rival Randolph, terrifying the latter in the film's most memorable scene, set in an indoor swimming pool at midnight. Psychiatrist Tom Conway scoffs at the Cat Woman legend--until he recoils in horror after kissing Simon. If the film's main set looks familiar, it is because it was built for Orson Welles' The Magnificent Ambersons (Lewton later used the same set for his The Seventh Victim). Cat People was remade by director Paul Schrader in 1982.
News & Interviews for Cat People
Critic Reviews for Cat People
Audience Reviews for Cat People
Based on the Edgar Allan Poe short story of the same name, "The Black Cat" has a plot that many will not pay attention to. The real draw is having Bela Lugosi (Dracula) and Boris Karloff (Frankenstein) onscreen, together, portrayed as foes. Read more at http://www.bluefairyblog.com/reviews/2015/4/28/double-feature-the-black-cat-and-cat-people
Spencer S.
Super Reviewer
I've always wanted to see this because I enjoyed the 1982 version of the same movie. I liked the '82 version more. This movie creates the setting that the scary parts are in your mind, not using visual blood and gore on screen. But the story seemed quite simplistic (maybe because I knew the story already??)
½
Oliver meets Irena at the zoo drawing pictures of the black panther, and the two strike up a quick friendship. Back at her place, she explains she comes from a cursed village in Serbia, where men turn into great cats whenever their passions rise. Even though Oliver finds the story odd, he still romances Irena and soon the two are getting married. Irena however, will not so much as kiss her new husband, for fear the curse will strike her and she'll murder him in the heat of the moment. Is it just a matter of time before Oliver finds himself spending more time with his assistant Alice (Jane Randolph), the sweet, american girl who has already professed her love for him? Cat People was filmed on a very low budget and this lead to great economic measures at the time. Director Jacques Tourneur makes great use out of his "lack" of available lighting, creating dark alleyways and spooky office buildings that have been closed up for the night. And let's not forget the pool scene, as Alice hears the growl of a jungle cat reverberate off the walls of the pool, but can see only shadows reflecting off the water. And what is the underlying message here? Is it about the dangers of sex or the dangers of abstinance? A woman who can't fulfill her wifely duties isn't really a wife at all, or a man who can't control his passions will find them blowing up in his face. It's a bit of weird 1940s fetish-ism.
Devon Bott
Super Reviewer
Cat People Quotes
There are no approved quotes yet for this movie.