Charade
(1963)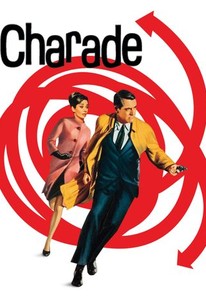 Movie Info
Cary Grant and Audrey Hepburn star in this stylish comedy-thriller directed by Stanley Donen, very much in a Hitchcock vein. Grant plays Peter Joshua, who meets Reggie Lampert (Hepburn) in Paris and later offers to help her when she discovers that her husband has been murdered. After the funeral, Reggie is summoned to the embassy and warned by agent/friend Bartholemew (Walter Matthau) that her late husband helped steal 250,000 dollars during the war and that the rest of the gang is after the money as well. When three of the men who attended her husband's funeral begin to harass her, Reggie goes to Joshua for help, at which time Joshua confesses that his name is actually Alexander Dyle, the brother of a fourth accomplice in the gold theft. The three men from the funeral are revealed to be the three other accomplices in the crime, and though she knows next to nothing of the heist, Reggie is caught in a ring of suspense as she is followed by the shadowy trio, all after the money. Apparently, the only person she can trust is Joshua/Dyle -- until Bartholomew tells Reggie that the fourth accomplice had no brother, and Joshua/Dyle reveals that he is, in fact, a crook named Adam Canfield. Now Reggie doesn't know where to turn. The musical score by Johnny Mercer and Henry Mancini was nominated for an Academy Award. ~ Paul Brenner, Rovi
Critic Reviews for Charade
Audience Reviews for Charade
Audrey Hepburn's in Paris and in some trouble. Her husband has been killed and these gorillas show up suddenly grunting about one quarter of a million dollars missing. Who can she trust? The only guy available (Cary Grant) changes his name, and his story (and thus the movie's title), daily. And people are being killed. Interestingly, the director Donen quite literally throws this at Grant but Hepburn steals the film anyhow. In the final analysis it all doesn't quite add up logically, but the charm of the leads, and Paris, and music by Mancini is one reason this is one of my favorites.
Kevin M. Williams
Super Reviewer
Despite the visible age difference, Cary Grant and Audrey Hepburn display a nice chemistry together in this charming blend of Hitchcockian thriller and screwball comedy - a classic spy film that benefits from a delicious sense of humor and a fantastic, suspenseful conclusion.
Carlos Magalhães
Super Reviewer
½
How do you make a Hitchcock movie without Hitchcock? Step 1: Cary Grant. Step 2: Find yourself a screenplay with a lot of twists and turns. Step 3: Hire the most beautiful actress you can afford. Step 4: And finally, you go get that guy who directed Singin' in the Rain.
Randy Tippy
Super Reviewer
Charade Quotes
| | |
| --- | --- |
| Regina Lampert: | Adam Canfield? Wonderful! Do you realize you've had three names in the past two days? I don't even know who I'm talking to any more! |
| | |
| --- | --- |
| Regina Lampert: | Hello, Mr. Dyle. |
| Peter Joshua/Alexander Dyle/Adam Canfield/Brian Cruik: | Regie? |
| Regina Lampert: | Well, that's the only name I've got. |
| | |
| --- | --- |
| Peter Joshua/Alexander Dyle/Adam Canfield/Brian Cruik: | What do I have to do to satisfy you? Become the next victim? |
| Regina Lampert: | That's a start anyway. |
| | |
| --- | --- |
| Regina Lampert: | I already know an awful lot of people and until one of them dies I couldn't possibly meet anyone else. |
| Peter Joshua/Alexander Dyle/Adam Canfield/Brian Cruik: | Well, if anyone goes on the critical list, let me know. |