Children of the Corn
(1984)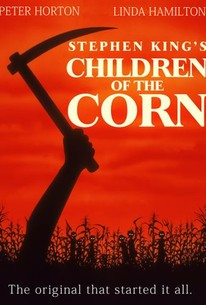 Movie Info
Narrator Job (Robby Kiger) relates the tale of Gatlin, NE, where one day the children, led by a boy preacher named Isaac (John Franklin), rose up and slaughtered all the grown-ups. A few years later, Job and his sister, Sarah (Ammemarie McEvoy), help their friend, Joseph (Jonas Marlowe), try to escape through the cornfields of Gatlin. Meanwhile, Burt Stanton (Peter Horton), a commitment-phobic young doctor, and Vicky Baxter (Linda Hamilton), his frustrated girlfriend, travel through the cornfield-lined roads of Nebraska on their way to Burt's new internship in Omaha. Their car hits Joseph, who appears out of nowhere, but upon examining him, Burt realizes the child's throat was slit before he ever wandered out from the corn. Attempting to locate help, Burt and Vicky turn to gas-station owner Diehl (R.G. Armstrong), who urges the couple to go anywhere but nearby Gatlin to report the murder. Several contradictory street signs later, they arrive in Gatlin anyway, and, befriending Sarah and Joseph, attempt to uncover the mystery behind Isaac's cult and its mysterious deity, known only as He Who Walks Behind the Rows. Stephen King cash-ins flooded the market between the successes of Brian DePalma's Carrie (1976) and Rob Reiner's Misery (1990), many of them, like Children of the Corn, based only loosely on the author's fiction. The original short story appeared in the collection Night Shift.
People Who Like this movie also like
Critic Reviews for Children of the Corn
Audience Reviews for Children of the Corn
Isaac: Malachai! He wants you too, Malachai. He wants you too!  "And a child shall lead them..." Children of the Corn quite possibly might be the worst Stephen King adaption I have ever seen. You know a movie is terrible when an hour and a half feels like three days. Everything about this film is amateurish and cheap. A film like this should live off of atmosphere and mood, but the director and the cast do little to achieve that.  The plot revolves around a religious cult of children who terrorize a couple. It may sound really stupid, but I guarantee that it's even stupider than you imagine. I haven't read the short story by King, but I would guess that it is much different than this sorry piece of shit. Bad horror movies are at least somewhat interesting or entertaining to me, most of the time. Children of the Corn is a notable exception. I couldn't have been more bored or less interested. I don't want to even imagine what the sequels are like. As for that ginger Malachai; I'm nominating it for the worst performance I have ever seen. Fucking terrible!
Melvin White
Super Reviewer
I think this film is very under-rated by critics. I hear this film is cheesey and not scary when the opening scene was one of the coolest scenes I've seen. I hate how people think that films arnt scary unless there's cold blooded hack job fake blood surging from every angle typical horror scene. This film had great set up and freaked me out. And now, unless I know the kid, I think all chrildren are evil devil henchmen.
Joshua Wilburn
Super Reviewer
Children Of The Corn is an often overlooked horror film. Based on the Stephen King story of the same name, Children Of The Corn is the story of a boy preacher who arrives in Gatlin, Nebraska and convinces the local children to murder the adults. After noticing an injured boy running from the corn field and into the street, young couple Burt and Vicky (Peter Horton, Linda Hamilton) travel to Gatlin to find help. When they get there, they find that the town is empty and is only habited by children. Soon the new arrivals know what really went on, and find out that Isaac, the boy preacher has brainwashed the children into killing their parents. Children Of The Corn is not the best Stephen King adaptation, but the filmmakers do a pretty good job in creating tense, horrifying moments. Sometimes the film seems a little sloppy, and cheesy, but this is what makes it a fun film to watch. The fact that we never quit see "He Who Walks Behind The Rows" (the god that the children worship) adds to the eerie atmosphere that this possesses. We are only given a brief scene with He who walks behind the rows, and when it happens, it reminds you of the shark from Jaws. The payoff of the film was decent, and entertaining, but it was also disappointing. Children Of The Corn is still a very entertaining horror film despite it's flaws. Just watch it with an open mind, and you may not feel too disappointed.
Children of the Corn Quotes
| | |
| --- | --- |
| Dr. Burt Stanton: | [about the Bible] What, did you rewrite the whole thing, or just the parts that don't suit your needs? |
| | |
| --- | --- |
| Malachi: | Outlander! We have your woman! She still lives! |
| | |
| --- | --- |
| Boy: | The Blue Man! Yes, the Blue Man! |
| | |
| --- | --- |
| Job: | Don't worry, Mister. You'll be safe here. Isaac and Malachi don't know about this place. |
| Dr. Burt Stanton: | Enough! Who are Isaac and Malachi? |
| Job: | Isaac started the whole thing. He's a boy preacher who came to this town three years ago. At nine-years-old back then, he had a charming way that appealed to all the kids and teens like us to follow him with his own teachings of the bible and of the Old Testiment. But me and Sarah thought he was just plain weird. |