Crime Story
(1986)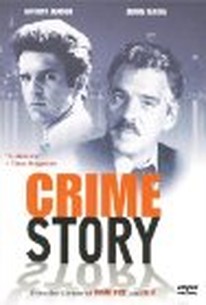 AUDIENCE SCORE
Critic Consensus: No consensus yet.
Movie Info
Tough guy director Abel Ferrara, and slick producer Michael Mann ('Miami Vice') combine talents on this period T.V. pilot about cops and mobsters in 1940's Chicago. Made real-life cop Farina a star.
Rating:
NR
Genre:
, ,
Directed By:
In Theaters:
Runtime:
Studio:
New World Video
Audience Reviews for Crime Story
This 1986 television pilot film was created by the success of tv's Miami Vice. Michael Mann was given freedom to spend and do whatever he wished which resulted in this 2 season blockbuster. [img]http://t0.gstatic.com/images?q=tbn:ANd9GcQp-c_Z8_RcN0yVC8Q9ZRmiUUV9iWzreRAxauq56kccTP6oe2RU[/img] While short lived due to rival network popular shows, it is credited with being the model for The Sopranos and the movie Casino by Martin Scorsese. The weekly episodes featured future stars such as Julia Roberts, Kevin Spacey, David Caruso. [img]http://t2.gstatic.com/images?q=tbn:ANd9GcQ5jnNIPjOXM6CNzCzndJPWV4npO9RClNzul5zBVvLcdML1KolZ[/img] The Pilot "Crime Story": Set in Chicago, 1963: the Major Crime Unit commanded by Lt. Michael Torrello foils an armed robbery that ends in a car chase & gunfight. The robbery's young mastermind, street hood Ray Luca--ruthless, fearless, ambitious & ingenious--moves on to his next score, a museum burglary engineered by college student Johnny O'Donnell, son of Torrello's old friend. SEE the trailer here: http://www.rottentomatoes.com/m/1004941-crime_story/trailers/10905453/ SEE some clips of the pilot film here: http://www.youtube.com/watch?v=7-gi5A7q1Es&feature=related http://www.youtube.com/watch?v=kn2yWA1NZkU&feature=related [img]http://t0.gstatic.com/images?q=tbn:ANd9GcRi24eGTkkBy2WIx9ATed3lasdKWfy74zo4vj9b7sQ0QIGPXdoV[/img] SEE the entire film here online: http://www.hulu.com/watch/389240 Reviews of the tv series: 1 The world of TV programing is all the worse for the loss of this excellent crime story drama. This show blows everything out of the water that's on tv today. 2 A precursor of the Soparanos... one of the best television series you've probably never seen.-- NY Times 3 A true American epic --- The New Biographical Dictinary of Film 4 Time ranked Crime Story as one of the best television programs of 1986 and of the 1980s. [img]http://upload.wikimedia.org/wikipedia/en/thumb/6/66/Crime_Story_Cast.jpg/190px-Crime_Story_Cast.jpg[/img] NOTES: 1 Crime Story is an American TV drama, created by Gustave Reininger and Chuck Adamson, that premiered in 1986 and ran for two seasons on NBC. The executive producer was Michael Mann, who had left his other series Miami Vice to oversee Crime Story and direct the film Manhunter. 2 Martin Scorsese directed and produced his movie Casino loosely basing it on elements of Crime Story, which was recognized at the "Casino" premiere as an inspiration. SEE the ENTIRE pilot film, all 96 glorious minutes here: http://www.hulu.com/watch/389240 [img]http://t1.gstatic.com/images?q=tbn:ANd9GcSkQ-hUti7aVhxMtKIPbY5i4-dnk6wXhlNY63aoY9ug4KhOnPcj[/img]
monsieur rick
Crime Story Quotes
There are no approved quotes yet for this movie.