Farewell, My Lovely
(1975)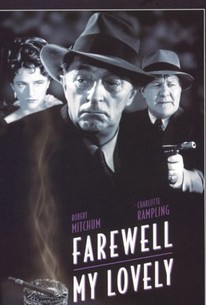 Farewell, My Lovely Videos
Farewell, My Lovely Photos
Movie Info
This remake of the 1944 film, 'Murder, My Sweet,' also based on the Raymond Chandler novel, concerns private eye Philip Marlowe's attempts to locate Velma, a former dancer at a seedy nightclub and the girlfriend of Moose Malloy, a petty criminal just out of prison. Marlowe finds that he is forced to follow a confusing trail of untruths and double crosses.
Rating:
R (N/A)
Genre:
, ,
Directed By:
Written By:
In Theaters:
On DVD:
Runtime:
Studio:
AVCO Embassy Pictures
Critic Reviews for Farewell, My Lovely
Audience Reviews for Farewell, My Lovely
½
Fast talking, noir type film in color. Typical 40's treatment of famed private eye Marlowe. Robert Mitchum playing private eye Phillip Marlowe more than anyone else. Marlowe has been hired by a huge and surly ex-convict, Moose Malloy, to find his old girlfriend Velma, whom he hasn't seen in years. See Sylvester Stallone in an early career role too. [img]http://fineartamerica.com/images-simple-print/images-medium/farewell-my-lovely-robert-mitchum-1966-everett.jpg[/img] Robert Mitchum as Philip Marlowe, private eye detective Don't confuse the tall thug "Moose" character with Richard Kiel of the James Bond series JAWS. Although much alike in size and personality, this is actor Jack O'Halloran. [img]http://images.cdn.filmclub.org/film__10773-farewell-my-lovely--large.jpg[/img] Jack O'Halloran, left Jack O'Halloran (born April 8, 1943) is an American boxer and actor. O'Halloran is best known for such films as Superman: The Movie, Superman II and Dragnet. [img]http://upload.wikimedia.org/wikipedia/en/thumb/2/2c/Poster_Farewell_My_Lovely_1975.jpg/220px-Poster_Farewell_My_Lovely_1975.jpg[/img] SEE the film here: http://www.youtube.com/watch?v=mpIftdXefsE [img]http://www.jonathanrosenbaum.net/wp-content/uploads/2012/10/farewell-my-lovely.jpg[/img] REVIEWS from those like us: 80% Great noir with good mood and exceptional performance by Robert Mitchum. 50% Mitchum is incredible as Marlowe, far superior to Bogart or Gould, though I don't fully understand Hollywoods love affair with the character. 70% Farewell, My Lovely tries to combine 40s noir style with 70s color, nudity and profanity. This combination is a mixed bag, but I like Robert Mitchum NOTES: 1 Mitchum would return to the role of Marlowe three years later in a 1978 remake of The Big Sleep, making him the only actor to portray Philip Marlowe more than once on the big screen. 2 Sylvester Stallone appears in a minor role [img]http://i2.listal.com/image/1351661/600full-farewell,-my-lovely-screenshot.jpg[/img] Sylvester Stallone, right Directed by Dick Richards Produced by Elliott Kastner Jerry Bruckheimer George Pappas Screenplay by David Zelag Goodman Story by Farewell, My Lovely Raymond Chandler Starring Robert Mitchum Charlotte Rampling John Ireland Sylvia Miles Anthony Zerbe Music by David Shire Cinematography John A. Alonzo [img]http://s.ecrater.com/stores/64590/4bfdf3c2a834e_64590n.jpg[/img] Editing by Joel Cox Walter Thompson Studio ITC Entertainment Distributed by Avco Embassy Pictures Release dates August 8, 1975 (United States) Running time 95 minutes Country United States Language English Box office $2,000,000 (United States) [img]https://encrypted-tbn2.gstatic.com/images?q=tbn:ANd9GcSpsod1yHa1Dh3zxUeu6Nmv4MovcM3ZIW0aBIbyMd-yYjyR__bI[/img]
monsieur rick
Caught this on cable and am now crestfallen that I can't own it to re-watch on DVD, which is just a shame, as this one would definitely hold up to numerous re-watches. Mitchum is amazing as always in a noir role, and young(ish) Charlotte Rampling is pretty easy on the eyes; well worth tracking down. Recommended.
Bill Bryant
½
A 1970s film mostly shot and acted like the 1940s never ended. So what is new here? Nudity, better acting, and drugs. All told I loved it, even if it is not exceptional. I am a sucker for these films though. The lines are great and you get to see Stallone play a thug.
Sean Chick
Farewell, My Lovely Quotes
There are no approved quotes yet for this movie.
Discussion Forum
Discuss Farewell, My Lovely on our Movie forum!