Hells Angels on Wheels
(1967)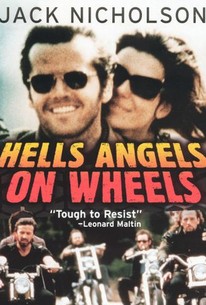 Hells Angels on Wheels Videos
Hells Angels on Wheels Photos
Movie Info
A bunch of hairy guys on Harleys are causing trouble again in this, one of the best-remembered examples of the biker flicks of the 1960's. Poet (Jack Nicholson) is a moody gas station attendant who is looking for more excitement in his life. When a gang of bikers roars through town, Poet is intrigued, and after he pitches in to help the Hell's Angels in a bar fight (and pulls a well-timed stick up), one of the gang's higher-ups, Buddy (Adam Roarke) asks Poet to join. Soon Poet is riding with the Angels and living their lifestyle of violent debauchery, but Poet begins to tire of their rootless decadence, and Buddy is none too happy with Poet when he learns they're both in love with the same woman. Hell's Angels On Wheels won a cult following for its agressive but languid atmosphere and the fluid camerawork of cinematographer Laszlo Kovacs (at this point still billed as "Leslie Kovacs"). Richard Rush directed, and legendary Hell's Angels leader Sonny Barger appears as himself.
Rating:
R
Genre:
,
Directed By:
Written By:
In Theaters:
On DVD:
Runtime:
Studio:
Fanfare Films
Cast
Critic Reviews for Hells Angels on Wheels
Audience Reviews for Hells Angels on Wheels
What fruit factory did you guys come from? Poet is a gas station clerk that gets badly treated by a customer and ultimately quits his job to try and join Hell's Angels. He quickly fits in and gets accepted but finds their girls, lifestyle, and behavior a bit brutal for his liking. Eventually, he will confront the gang leader and an epic showdown ensues... "Don't you have any confidence?" "I have something for you." "Keep it." Richard Rush, director of Thunder Alley, Color of Night, The Stunt Man, The Savage Seven, A Man Called Dagger, Of Love and Desire, and Getting Straight, delivers Hells Angels on Wheels. The storyline for this picture is just okay, a bit cliché, and far from a classic gem. The acting was okay as the cast includes Jack Nicholson, Adam Roarke, John Garwood, and Jack Starrett. "Have another beer. I don't like it when you're gentle with me." I came across this while scrolling through Jack Nicholson films on Fios and I decided to DVR it. This was a fun film to watch, and Nicholson was his classic cool self, but there were not enough unique elements to meet my expectations. Overall, this is an average to below average addition to the genre. "So funny you could cry." Grade: C-
Kevin Robbins
½
Only saw it because it's named like the show 'Hell on Wheels' and has the style of 'Sons of Anarchy' because of the motorcycle gang but is FAR FAR behind; not even close to being as good as the two critically acclaimed tv shows I like to watch during the week. Even Jack Nicholson can't save this but does what he can.
TMCA LABD
Saw this one a long, long time ago, liked it then, don't know that I would feel the same way now. Early Nicholson.
Russell Herdman
Discussion Forum
Discuss Hells Angels on Wheels on our Movie forum!
News & Features