The Hunter
(1980)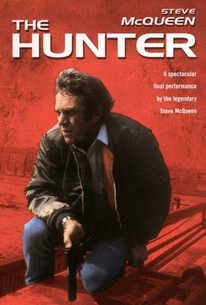 Movie Info
The story of professional bounty hunter Ralph "Papa" Thorson.
Critic Reviews for The Hunter
Audience Reviews for The Hunter
It's very sad that McQueen, one of the greatest movie stars of all time, has this as his last movie before his untimely death. The action/chase scenes are your standard, boring crap where stuff gets smashed up real good. Ben Johnson and Eli Wallach are terribly underused! Some of the dialogue works because of McQueen whose charm has you smiling and you don't even know why.
Paul Pastoor
½
Great chase scenes, better than seen today, this film was ruined by trying to be all things to all people. Going from bounty hunter Steve McQueen and his chases for his salary, to being an expectent father to be. Silly and horridly dated by the crowd scenes, this one is strictly reserved by McQueen fans who will ignore the period issues and skip to the chase scenes. I half heartedly recommend this for cinema fans in general as the film is so dated by cinematography that looks like a 70's tv show. Save for the spectacular chase scenes, this film disappoints generally. The corn field chase is particularly interesting but the final capture is totally unrealistic. The transam is blown up yet McQueen brings in his men, walking in hand cuffs. Right.... Suggest you put your time machine in reverse and forget all the cinematic achievements of the last 30 years to watch this one.
monsieur rick
There are only three reasons I gave the Hunter two stars. First, it was Steve McQueen's last film and he is very good in it. Second, Eli Wallach is in it and Eli makes any movie better (except The Holiday). Lastly, Steve McQueen drives a Trans-Am. Other than those three things this film is horrible. Directing, writing, acting. It all sucks except those three things. McQueen is a bounty hunter that can apparently go around driving into things, blowing stuff up, and causing mayhem. And he's not even a cop. Where the hell do I sign up? I want to blow up a chemistry classroom, too. Levar Burton shows up- he's wanted for selling old books without covers as a side line to Reading Rainbow. Enough of that crap, let's talk about McQueen and the T/A. Sadly, a plot to the story is that his character is a bad driver, but the sad part is that McQueen drives a Trans-Am badly better than most people drive normally. Of course it gets blown to hell, but it's a good ten minutes. Seriously, I can only recommend this for McQueen. It's sad that the guy in the movie that's actually dying is the only actor in the movie that isn't dying on screen. McQueen, Wallach, and Trans-Am are awesome. The rest of this is shit.
Chris Garman
Super Reviewer
The Hunter Quotes
There are no approved quotes yet for this movie.
Discussion Forum
Discuss The Hunter on our Movie forum!