Little Shop of Horrors
(1986)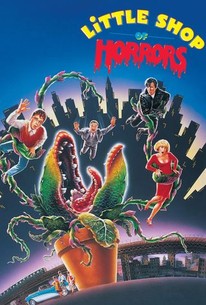 TOMATOMETER
AUDIENCE SCORE
Critic Consensus: Remixing Roger Corman's B-movie by way of the Off-Broadway musical, Little Shop of Horrors offers camp, horror and catchy tunes in equal measure -- plus some inspired cameos by the likes of Steve Martin and Bill Murray.
Little Shop of Horrors Photos
Movie Info
It started as a 1960 Roger Corman horror comedy, filmed in two days; it then inspired a lavish 1982 Broadway musical with music and lyrics by Alan Menken and Howard Ashman. Finally in 1986, Little Shop of Horrors (1960) graduated into a multimillion-dollar, all-star film musical. Rick Moranis plays nebbishy Seymour Krelborn, who works in a rundown flower shop on Skid Row. While his boss (Vincent Gardenia) bemoans the lack of business, Seymour seeks a way of bringing the shop -- and himself -- fame and fortune. He purchases a strange plant from an even stranger oriental street vendor (Vincent Wong), naming the plant after his girlfriend Audrey (Ellen Greene, one of the few carry-overs from the Broadway version). Gradually, Seymour learns to his horror that "Audrey II" (given the voice of R&B performer Levi Stubbs) craves blood and flesh. With each of Audrey II's "FEEED MEEE"s, Seymour must scare up human food to satisfy the plant's appetite. One such victim is dentist Steve Martin, a leather-jacketed Elvis type (the dentist's ultra-masochistic patient played by Jack Nicholson in the 1960 original is here impersonated by Bill Murray). The lighthearted tone of the film darkens as Audrey II grows in monstrosity, but the unhappy ending of the Broadway version is avoided herein. ~ Hal Erickson, Rovi
People Who Like this movie also like
Critic Reviews for Little Shop of Horrors
Audience Reviews for Little Shop of Horrors
I like this movie, its just very entertaining, the music numbers are superb and i love the plant 'Feed Me' its just great a silly fun, amusing movie thats entertaining and worth the watch!
Film Crazy
Super Reviewer
Audrey II: Does this look "inanimate" to you, punk? If I can move and I can talk, who's to say I can't do anything I want?  "A Singing Plant. A Daring Hero. A Sweet Girl. A Demented Dentist." Little Shop of Horrors isn't a horrible musical by any means. It is just an extremely annoying one. I found all the songs to be annoying that weren't sung by the trio of girls who followed the events of the story around. Ellen Greene's voice irritated the shit out of me. She talks in a raspy, soft spoken way that just makes you want to kill yourself. Then when she sings, good Lord when she sings. Rick Moranis's singing tunes are just as bad. He plays his usual character and that character just doesn't translate well to singing. A flower shop in the ghetto isn't doing very well. No one comes in and the owner is looking at shutting the place down. This is when Seymour shows his new plant and puts it in the window to attract new customers. It works and the business begins to thrive and Seymour becomes an overnight success. Soon he figures out that in order for the plant to grow and not die, it needs human blood. For a while, he is able to feed it with drips from his fingers, but eventually the plant grows to big for that to do any good.  My favorite thing about this movie are the cameos. There are great cameos from Steve Martin as a sadistic dentist and also from Bill Murray as a pain loving patient of that dentist. Also the songs from the three women who follow the events around are awesome. I wish I could have sold after the initial credits because that was awesome. The movie is just too dull and actually quite boring. Songs can only go so far, there has to be characters and a plot that can support those songs and in Little Shop of Horrors, the characters cannot. I guess it is still worth one watch for Steve Martin' scenes alone. 
Melvin White
Super Reviewer
½
The best parts of this imaginative remake of the strange little Roger Corman film are the hilarious performances of Steve Martin and Bill Murray.
Graham Jones
Super Reviewer
Little Shop of Horrors Quotes
| | |
| --- | --- |
| Seymour Krelborn: | Here, maybe I can squeeze a little bit more out of this finger. |
| Audrey II: | More! More! More! More! |
| Seymour Krelborn: | There isn't any more! What do you want me to do, slit my wrists? |
| | |
| --- | --- |
| Mr. Mushnik: | Listen Seymour. Just because you put a strange and interesting plant in the window doesn't mean that it'll bring customers! |
| 1st Customer: | (Opens door) Excuse me, but I couldn't help but notice that strange and interesting plant in the window! |
| 1st Customer: | [opens door] Excuse me, but I couldn't help but notice that strange and interesting plant in the window! |
| | |
| --- | --- |
| Audrey: | I don't believe this. |
| Audrey II: | Believe it, baby, it talks. |
Discussion Forum
Discuss Little Shop of Horrors on our Movie forum!