Manhunter
(1986)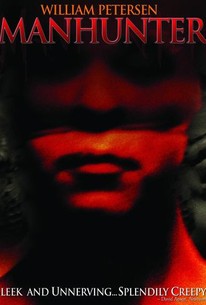 Movie Info
This stylish psychological thriller was adapted by Michael Mann from the novel by Thomas Harris. Will Graham (William Petersen) is a burned-out FBI agent who retired after hunting and capturing Dr. Hannibal Lecter (Brian Cox), a psychopathic but brilliant serial killer. Will reluctantly returns to work to help find a new killer, who specializes in killing entire families. Will uses his empathic understanding of the motivations of the killers to help catch them, despite the psychological toll this takes upon him and his family. Brian Cox, in a great cameo as Hannibal Lektor, gives an interestingly physical and sexually menacing performance in a role which later won an Academy Award for Anthony Hopkins in Silence of the Lambs. Tom Noonan, in an interesting, psychologically complex performance, plays the killer whom he makes surprisingly understandable. Joan Allen is also fine as the blind woman whom the killer falls in love with. Their love scene -- as the killer experiences compassion and normal sexual attraction for the first time -- is outstanding and unforgettable. While it is overshadowed by the widely acclaimed Silence of the Lambs, Manhunter, based on the Thomas Harris novel Red Dragon holds its own as a suspenseful, psychological thriller directed with flair and style.
People Who Like this movie also like
News & Interviews for Manhunter
Critic Reviews for Manhunter
Audience Reviews for Manhunter
Granted the ensemble, award-winning cast of 'Red Dragon' squarely surpasses the B-list actors of this film and the neon-green font credits insinuate a hip vibe (although the blue filters would certainly substantiate that misconception), but 'Manhunter' is a supremely haunting adaptation of Thomas Harris first Hannibal Lecter novel. The discrepancies between 'Manhunter' and 'Red Dragon' are paramount at the beginning with the recruitment interaction between Crawford and Graham on the beach. In 'Red Dragon', the heinous crimes and retirement status of Graham are explicitly detailed whereas 'Manhunter' is more elliptical in the dialogue and more moody in the bleak tone ala a David Mamet screenplay. Before he reigned in 'CSI', Petersen starred in two of the most pulse-pounding movies of the 80's, 'Manhunter' and 'To Live and Die in L.A.'. Petersen is the tenacious moral compass who must venture into the brooding recesses of his psyche to entrap his prey. For example, he bellows at the Leeds' home videos as if he was Dolarhyde's accomplice. The verbal byplay between Graham and Lecter is almost verbatim, but 'Manhunter' really exploits the sociopathic symbiosis further such as when Graham races out of the prison hyperventilating when Lecter exhorts that "they are very much alike". Michael Mann bathes the terrifically meditative 'Mahunter' in lustrous, nocturnal fluorescence and he burrows deep within the vicarious, pathological rush of investigators who must tap into their demons for civic duty.
Cory Taylor
Super Reviewer
½
William Petersen carries the film with a brave and ambivalent portrayal of a disturbed detective obsessed with the psychopath he must catch . Mann's atmospheric storytelling helps to feel the heat, anguish and horror in the minds of the duellists. The sinister Tom Noonan is the counterpart of the deadly game,
Pierluigi Puccini
Super Reviewer
½
This is the first film adaptation of one of Thomas Harris's Hannibal novels, as well as the only one (so far) to have a remake. This version of Red Dragon strays quite far from the source material, and even changes character names to Lektor and Dollarhyde, but as a police procedural and a tense psychological thriller/killer film, it is absolutely wonderful. Brett Ratner's Red Dragon followed the book far closer, and had a lot of good things about it, but let's be honest, it just feels very warmed over unremarkable. Plus, Mann is a far better director, hands down. That's what really makes this film work. For those who don't know the plot: Will Graham is a retired FBI profiler who reluctantly gets back into the game to help hunt down an emerging killer known as the "Tooth Fairy". In order to get inside his head and get a better grasp on the man Graham seeks the aid of another serial killer named Hannibal Lektor, a man Graham had previously captured and almost lost his life in the process. This is a really gripping and absorbing thriller that is intelligently written, wonderfully acted, and brilliantly shot, scored, and directed. The film gives a finely observed portrait of the forensic investigation process, and the emotional and psychological toll it can take. I love how the film is also very subtle and patient, heightening the tension and suspense, and causing a continually lingering feeling of unease. All of this of course comes through with the things I mentioned above. I'm not really big on synth based music (barrign a few exceptions), but it fits perfectly here, despite somewhat dating the film. The use of Iron Butterfly's "In-A-Gadda-Da-Vida" is absolutely brilliant and ranks as one of the two best uses of it in popular culture. Frequent Mann collaborator Dante Spinotti once again does an excellent job with the cinematography with some excellent uses of light, framing, and angles to heighten the mood and themes. You should really give this film a chance. It's a tightly plotted and engaging thriller with brains and a high level of artistic competantcy. Willima Petersen gives a great performance as the determined and haunted Graham, Tom Noonan is very creepy and chilling as the "Tooth Fairy" Francis Dollarhyde, Dennis Farina puts in good work as Graham's superior Jack Crawford, Stephen Lang is effectively scuzzy as a mangy tabloid journalist, and Brian Cox does a fanatastic and nicely nuanced and subtle job of playing Lektor. It's a more grounded performance than the one Anthony Hopkins would later give, but it's just as chilling if not more so. Again, give this a shot. It's some tremendous stuff and a great reminder of why, even though he's gone a bit downhill as of late, Michael Mann is one of the best and most important directors of the past 50 years.
Chris Weber
Super Reviewer
Manhunter Quotes
| | |
| --- | --- |
| Will Graham: | It's just you and me now, sport. |
| | |
| --- | --- |
| Will Graham: | You've been watching these films. Haven't you....my man. |
| | |
| --- | --- |
| Francis Dollarhyde: | You owe me all. |
| Francis Dollarhyde: | You owe me awe! |
| | |
| --- | --- |
| Will Graham: | I know I'm not smarter than you. |
| Dr. Hannibal Lecktor: | Then how did you catch me? |
| Will Graham: | You had disadvatages. |
| Dr. Hannibal Lecktor: | What disadvantages? |
| Will Graham: | You're insane. |
Discussion Forum
Discuss Manhunter on our Movie forum!