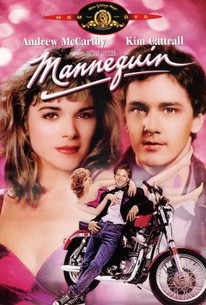 Mannequin
1987, Romance/Comedy, 1h 29m
40 Reviews
25,000+ Ratings
What to know
critics consensus
Mannequin is a real dummy, outfitted with a ludicrous concept and a painfully earnest script that never springs to life, despite the best efforts of an impossibly charming Kim Cattrall. Read critic reviews
Where to watch
Subscription
Rate And Review
Movie Info
Jonathan Switcher (Andrew McCarthy), an unemployed artist, finds a job as an assistant window dresser for a department store. When Jonathan happens upon a beautiful mannequin he previously designed, she springs to life and introduces herself as Emmy (Kim Cattrall), an Egyptian under an ancient spell. Despite interference from the store's devious manager (James Spader), Jonathan and his mannequin fall in love while creating eye-catching window displays to keep the struggling store in business.
News & Interviews for Mannequin
Audience Reviews for Mannequin
This a quintessentially 80s rom-com. Technically speaking, this is not what one would call a good movie or anything of the sort, but I think it gets by on a sort of nostalgic 80s charm. Honestly, I can imagine myself not really liking this film if I managed to watch in the 80s as I'd have probably been bombarded with films like this all the time. But, as an anachronism, something that I don't see very often and that captures an entire different era and their style, it's a perfectly fine little movie. Again one that is probably terrible if you really look at it objectively, but a lot of people won't. This is the type of movie that you watch when you're in a shitty mood and you want something to cheer you up. Not that I was in a shitty mood, but it's that type of movie and the audience they were going for when they made this doesn't really care if the film is very poorly made, objectively speaking. That's not to say there isn't some good stuff in the film. James Spader, for example, is pretty great in this movie as the sycophant who wants to do everything in his power to screw with the good guys and force them to sell the store to BJ Wert. The characters in this film are clearly defined, they're black and white, not shades of gray. You have the predictably evil 80s villains and you have the goody two-shoes, never do anything wrong, 'heroes'. And there's obviously the obligatory 80s music montages. Two of them to be exact. While the film is a little cheesy and at times bland, I think Andrew McCarthy and Kim Cattrall, who looked absolutely stunning here, had some solid chemistry. Again, they're like the archetype of an 80s movie couple. Meshach Taylor as Hollywood Montrose. Though this character is more of a gay stereotype than anything else, but, really, I though Meshach, at the very least, made the character entertaining to watch, though he could be a bit obnoxious at times. GW Bailey, outside of James Spader, might have been the most effective at his role. So yea, there's not much else to say about this really. It's not a great movie, it's not even a good one, by today's standards or even 80s standards, but even with that, there's a certain charm about this movie that makes watching them a relatively easy, enjoyable and painless experience, even if you wouldn't call the movie good.

A goofy little romantic comedy, Mannequin is an enjoyable piece of '80s camp. The story follows a young artist named Jonathan Switcher whose window-dressings start to revive a dying department store, but what no one knows is that he has a mannequin as his silent partner who has the ability to come to life. While the plot's rather formulaic, the comedy's well-written and adds a lot of character to the film. Additionally, the cast, which includes Andrew McCarthy, Kim Cattrall, and James Spader, has a lot fun with the material and it shows through in their performances. Plus, the soundtrack, which feature some great pop hits such as "In My Wildest Dreams" and "Nothing's Gonna Stop Us Now," adds a lot of energy to the film. A charming and delightful comedy, Mannequin is a lighthearted film that's quite entertaining.

First of all, this was a remake of the 40s movie One Touch of Venus, and second, if you watch this movie beware that it is extremely cheesy and not in a good way. The actors are okay, but their dialogue is lame, and so is the script. On top of that the overall plot is pretty stupid. I do not recommend this movie whatsoever.

Mannequin stars Andrew McCarthy as a young artist who cannot find work anywhere so he gets a job at a large department store where he falls in love with Kim Catrall, who is delightfully cast as a department store mannequin who comes to life only when McCarthy is around and has plenty of fun with her new companion. The plot is cute, filled with pure fantasy. I mean who wouldn't want a beautiful mannequin to fall in love with you. It's not the greatest but not that terrible too, then there is that great little tune, "Nothing is going to stop us now," by Jefferson Starship.
See Details