The Mission
(1986)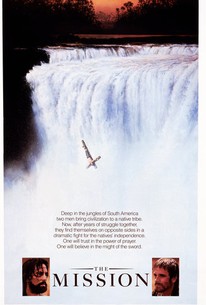 Movie Info
In director Roland Joffe's historical epic The Mission, Jeremy Irons stars as Gabriel, an 18th-century Jesuit priest sent to the jungles of Brazil to build a Guarani Indian mission. Upon his arrival, Gabriel meets the slave trader Mendoza (Robert De Niro), a cruel, bloodless man who kills as many of the Guaranis as he enslaves. His brother Felipe (Aidan Quinn) is another of his victims, killed in a duel over a woman. Because of Mendoza's aristocratic background, he cannot be tried for his crimes; however, the weight of his conscience inspires him to ask Gabriel for the opportunity to do penance at the mission. When Spain sells Brazil to Portugal, the two very different men must join together to defend the mission against aggressors.
News & Interviews for The Mission
Critic Reviews for The Mission
Audience Reviews for The Mission
A remarkable and profoundly moving drama about redemption and the transforming power of love, not only visually stunning and boasting a wonderful Ennio Morricone score but also with Robert De Niro and Jeremy Irons carrying the film in two outstanding performances.
Carlos Magalhães
Super Reviewer
Moving and beautiful. The Mission, with a great direction and majestic score of the master Morricone, make this film an unforgettable powerful piece of work in seventh art.
Lucas Martins
Super Reviewer
Based on actual events, this film, despite being a little erratic and flawed, is still a pretty good look at a fascinating subject. The story concerns a group of Jesuits working with the Guarani tribe in South America during the 1750s who get caught up in the socio-political machinations of imperialism of the powers that be back in Europe. The leader of the order (Irons) is a pacifist who unwaveringly believes in love, peace, and the belief that his ways are best. Another, a convert into the order (De Niro) is a reformed sinner trying to right his wrongs. As a former mercenary and slave driver, he feels that violence is justified if it can be used to save what they had been working towards. The film works best as a big picture study versus a character piece. Besides the socio-political machinations, and the story of the Jesuits within this historical context, the big thmes of the film are of faith, suffering, and the human condition. There's a lot to really like (if not love) here, but there's also a lot that could have been far better. Ennio Morricone's score and Chris Menges's cinematography are both powerful and absolutely gorgeous. The attention to period detail, historical context, and authenticity of the casting of many Natives are also very strong and inspired. What's not so good are the way the individual character stories and character development are handled, as well as some of the inauthentic castings for the European characters. Despite some iffy casting choices, the performances are oddly interesting. I wanted some better development with the views of De Niro's and Irons's characters, as weel as some more convicing development of De Niro's character's motivations, but I still kinda dug what they were doing, regardless. It's also kinda neat to see Liam Neeson and Aidan Quinn early on in their respective careers. As a Catholic (albeit slightly lapsed) myself, and someone who is really close to a histroian who wrote a book on the Jesuits, I should have really, really enjoyed, if not loved this film. I do like the way the Jesuits are handled, and am happy they put it into a historical context. I also liked that the film's conclusion, though a downer, is the way it is, and that it wasn't given the Hollywood treatment. However, I can't feel justified in giving this a higher score based on the issues i've elaborated one. Do I still like this film and recommend it? Oh yeah. It's some good stuff, even if it is rather odd, and all over the place at times. Perhaps if I watched it some more times I might find my current views in need of changing, but, as it is, this is just a really good film, instead of the great piece of art it could have been.
Chris Weber
Super Reviewer
The Mission Quotes
| | |
| --- | --- |
| Altamirano: | So, your Holiness, now your priests are dead, and I am left alive. But in truth it is I who am dead, and they who live. For as always, your Holiness, the spirit of the dead will survive in the memory of the living. |
| Altamirano: | So, your Holiness, now your priests are dead, and I am left alive. But in truth it is I who am dead, and they who live. For as always, your Holiness, the spirit of the dead will survive in the memory of the living. |