Monkey Business
(1931)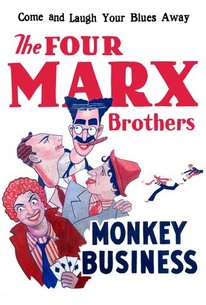 Movie Info
The first Marx Brothers picture written specifically for film, this outing finds the boys as stowaways on a cruise ship.
Critic Reviews for Monkey Business
Audience Reviews for Monkey Business
½
A consistently funny comedy (with some amazing moments) but only until the characters leave the ship; after that, however, the film becomes more irregular, with jokes that don't work so well despite how addictive the Marx brothers are in nearly every scene they appear.
Carlos Magalhães
Super Reviewer
½
All the brothers were musicians but Harpo alone always got so serious whenever he played harp (sometimes Chico on the piano, but not always). His clown character creation falls from him, regardless of his costume and ... I always think of their mom, making those guys take music lessons. Those guys. One look from Harpo and women run for their virtue, one look, and then the same guy sits down to play a harp, what angels are supposed to play, its a contradiction, isn't it? Big fun as always, this film, as the stowaway foursome mess with stuffy shipboard personnel, the gentry elite, and gangsters to boot. Who is Maurice Chevalier?
Kevin M. Williams
Super Reviewer
½
My favourite Marx Brothers movie. It's hilarious and short, it's just packed full of jokes and gags.
Monkey Business Quotes
| | |
| --- | --- |
| Groucho: | I'm going back into the closet, where men are empty overcoats. |
| | |
| --- | --- |
| Stowaway: | (Groucho) Oh I realize it's a penny here and a penny there but look at me, I've worked myself up from nothing to a state of extreme poverty. |
| Stowaway: | Oh I realize it's a penny here and a penny there but look at me, I've worked myself up from nothing to a state of extreme poverty. |
| | |
| --- | --- |
| Stowaway: | (Groucho) You're a woman who's been getting nothing but dirty breaks. Well, we can clean and tighten your brakes, but you'll have to stay in the garage all night. |
| Stowaway: | You're a woman who's been getting nothing but dirty breaks. Well, we can clean and tighten your brakes, but you'll have to stay in the garage all night. |