Nightmare (Blood Splash)
(1981)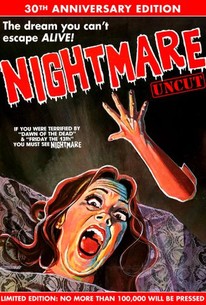 AUDIENCE SCORE
Critic Consensus: No consensus yet.
Movie Info
In this graphic and gory slice-n-dicer, a young boy goes Lizzy Borden when he sees his daddy making love to his mistress, and he chops them to bits. Though he goes through years of treatment, nothing can heal his shattered mind and he grows up to be a homicidal maniac.
Critic Reviews for Nightmare (Blood Splash)
Audience Reviews for Nightmare (Blood Splash)
½
Really good independent psycho-slasher from the video-nasty era. Lots of sleaze and gore to endure, even in its cut form. It is a little rough around the edges. Really needs to be released with a remastered, uncut print. Must-see for sleazy slasher fans.
½
Nightmare(s) (in a damaged brain) is kind of like the horror film you watch through the eyes of a child. Remember when you were a kid and horrors weren't so much entertaining as they were (mildly) traumatising? That would give you sleepless nights for quite some time? Well nightmare is one of those films that can have that effect on you AS AN ADULT. Imagine the original 'texas chain saw massacre' but a lot more psychological and involving children, and A lot more gore, and you get the rough idea of what this film is all about. Now I'm a big fan of horror, I can sit through (almost) anything but I've seen this film one and a half times (the uncut version) and have had it for quite some time. And thats NOT because the film is bad, its cause its so frigging' creepy. First time was a curiosity as I'd heard so much about it and was desperate to see why it had been banned, the second (half) time was because I hadn't seen it in a while and fancied giving it a second go. I couldn't do it! It really is one of those type of horrors thats hard to sit through, its tone is so sinister and you feel almost perverted and sick and evil for just watching it, even though there are no real animal killings or anything like cannibal holocaust/ferox and it's only a movie and nothing more. Anyways, if you like genuine, creepy, under the skin horror then this one is for you. If, however, your not a fan of the whole 'grind-house' scene, don't like films with low production values and risible acting and prefer your horror to be modern, over produced and polished, then avoid this one. In either case its very underrated as being 'one of the scariest horror films of all time'.
Cassandra Maples
Super Reviewer
½
Nightmare follows the story of a mental patient who is troubled with horrible nightmares from and up and escapes one day now he is on the streets and he just cant seem to help killing innocent people but there is one family he is very interested in yet when he tries to kill them he finds its not so easy i wonder why?. I found this to be a really cool movie in that cheesy 80's kinda way that most people will love and is worth checking out if you can find it loses half a star from four just cause it can get to be alittle to much into cheesy land for my taste
Nightmare (Blood Splash) Quotes
There are no approved quotes yet for this movie.