The Other
(1972)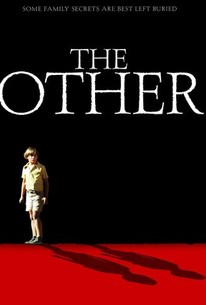 Movie Info
The atmospheric direction of Robert Mulligan and the first-rate writing of Tom Tryon (based on his own novel) place The Other at a notch above the seemingly endless parade of demonic horror films of the 1970s. The story takes place on a small Connecticut farm in 1935 and concerns a luckless family that finds itself further plagued by a violent series of mysterious deaths. It seems that the curious deaths have something to do with Alexandra Udvarnoky's (Diana Muldaur) twin sons -- ten year old Chris (Niles Perry) and Martin (Holland Perry). Martin is shy, withdrawn, and somber, while Chris behaves like a normal ten-year-old boy. The question the film poses is which twin is good and which is evil -- and has he caused the killings?
Critic Reviews for The Other
All Critics (8) | Top Critics (1) | Fresh (7) | Rotten (1) | DVD (1)
Here's that rare movie that equals its source material.
The diabolical story has its eerie moments, but skirts close to becoming too ridiculous to fathom.
The Other is a competent flick that will prove to be a lot freakier for film fans with active imaginations.
Audience Reviews for The Other
Incredibly eerie and disturbing.
Despite the fact that he scripted and co-produced it himself, evidently author Thomas Tryon was unhappy with the finished film version of his psychological horror novel, though in all honesty it's difficult to imagine how it could possibly have been improved upon. Having demonstrated a singular talent for being able to tell a story though a child's eyes with To Kill a Mockingbird, Robert Mulligan would appear to have been a very shrewd choice of director. And so he proves to be, though what impresses even more than Mulligan's handling of the young twin leads (Chris & Martin Udvarnoky) is his ability to create a sickly feeling of unease in the most outwardly wholesome of situations. Unusually for a horror film, the action almost exclusively takes place in bright sunshine, and with its Thirties setting and rural California doubling for the East Coast once again, at times the effect is not unlike watching a deeply twisted version of The Waltons. With the prevailing trend toward gratuitous excess as censorship codes were relaxed, it's not difficult to see how this gem, a beautifully crafted model of restraint, failed to find an audience at the time of release. However, anyone searching for an American movie comparable to The Innocents in terms of theme, aesthetics and sheer quality, look no further.
You might want to check out this less-known (dated) thriller when you've something better to do. In the beginning, it felt a bit hard to tell Niles from Holland, but thankfully that didn't last long. The story is predictable, but that's not a big problem here. The performances are about okay. Good dialogues and better direction might have made it a notable piece. Besides, the way the climax is executed is also disappointing. 3.5/10.
familiar stranger
Super Reviewer
The Other Quotes
There are no approved quotes yet for this movie.